NAUMD Awards – Image of the Year & Best Dressed Winners
The North-American Association of Uniform Manufacturers and Distributors (NAUMD) is out with its annual list of best dressed companies and public safety departments. This year's recipients – and the designers, manufacturers and distributors who created the programs – were honored at an awards reception in Orlando, Fla.
Sixteen companies were awarded the association's Image of the Year Award, a recognition honoring excellence in the design and wear of corporate apparel. Seven departments took home the grand prize in the 36th annual Best Dressed Public Safety competition. The contest recognizes the important role uniforms play in law enforcement and is awarded to both the user and manufacturer of the program.
Five suppliers – Cintas, Superior Uniform Group, Disney, G&K Services and Unisync – walked away with multiple awards in the Image of the Year competition, while Arrow Uniform, Aramark, Omega Uniform Systems and Red the Uniform Tailor (RTUT) each took home one. RTUT also scored in the Best Dressed Public Safety contest, winning three awards there, while VF Imagewear won two. I. Spiewak and Fechheimer round out the list with one win each.
Both the Image of the Year and Best Dressed Public Safety awards call attention to the role clothing plays in increasing morale, instilling confidence and projecting a professional or authoritative look. "Clothing is more important to the branding strategy than ever before," notes Richard Lerman, NAUMD president. "Employees are a company's walking advertisement; over time, the uniforms become part of the branding, attracting new customers and reminding existing ones about your products and services."
In the public safety arena, there's added significance, according to Deron Gerber, NAUMD public safety chair. "A welldressed officer commands respect, for he or she will be viewed as a professional, a voice of authority," says Gerber. "Uniforms, therefore, are an integral part of police work, and calling attention to the importance of uniforms is the driving force behind this competition."
2013 Image of the Year Recipients
---
Category: Restaurants, Fine Dining Recipient: The Breakers Palm Beach Supplier: Cintas
If diners find themselves thinking about "Mad Men" when dining at The Breakers, there's good reason. Cintas partnered with The Breakers Palm Beach to create a uniform program resembling the elegance of the 1950s and '60s. Partially inspired by "Mad Men," the hit television series set in that time period, the uniform program sets the stage for drama and impact with multi-pleat dresses, textural fabric juxtapositions and Dior-esque bow belts for a look that is both functional and esthetically stylish.
"The goal for this program was to create a memorable apparel program more in line with costumes than uniforms," says Cintas fashion designer Robert Fajfrowski. "The wardrobe, along with staff hair and makeup, sets the stage for performance and captures the spirit of the '50s and '60s cocktail environment, perfect for guests seeking a true getaway."
Predominantly black with white and red accents, the uniforms capture the elegant, refined look of the previous decades while incorporating elements from the 21st century.
Category: Restaurants, Quick Service Recipient: Flo's V-8 Cafe Supplier: The Walt Disney Company
In another nod to the past, Disney has created Flo's, a step back in time to the drive-up diners of the 1950s and the pioneering spirit of the open road.
Flo's is part of a continuous theme in Disney California Cars Land, a 12-acre expansion inspired by the Disney Pixar movie "Cars."
To create this motif, uniforms needed to function both indoors and out, be clearly recognizable, and, of course, be distinctly Disney Pixar. The resultant look easily captures the movie's spirit, with hosts attired in black and white houndstooth trousers, topped with a turquoise bowling shirt with white racing stripes, houndstooth collar and the Flo's V-8 logo embroidered on the pocket.
Hostesses wear a shirt-waist dress of turquoise with a wide double collar and white piping. Peaked cuffs and an inset apron trim out the ensemble, topped off with a peaked bandette with the signature V-8 logo front and center. Easy care poly/cotton poplins make the look sharp and the feel comfortable in all weather.
Category: Retail Establishments Recipient: Price Chopper Supplier: Superior Uniform Group
Price Chopper is a chain of supermarkets headquartered in Schenectady, N.Y. Uniforms are worn by store teammates in all departments to represent the pride they have in the company and to make shopping a better experience for all customers.
Main store staff receives custom red athletic mesh knit shirts in men's and ladies' short- and long-sleeve styles, with staff under the age of 18 wearing white athletic mesh top. Department managers have either long- or short-sleeve custom red woven shirts in men's and ladies' styles.
Uniforms for specialized areas vary. Longsleeve white pharmacy coats are provided for pharmacists and blue pharmacy coats are provided for the pharmacy technicians. Food service personnel are provided a short-sleeve red shirt. A short-sleeve black T-shirt is worn by the night crew, and janitors are in short-sleeve black fineline twill woven shirts. Receivers wear short-sleeve black athletic mesh knit shirts, and the Front End Supervisors receive a black vest.
The combinat ion of s tock fabrics and custom dyed garments helps Superior provide Price Chopper a unique look for each department at an affordable price. Superior, by selecting the athletic and waffle fabrics constructed to wick perspiration away from the body, ensured that teammates would be comfortable during their day.
Category: Retail Establishments, Non Food Recipient: Rexall Supplier: Unisync Group Limited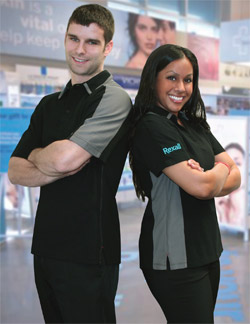 Rexall is a chain of pharmacies with 425 locations across Canada offering a variety of health and wellness items, beauty products, and general merchandise.
The company recently underwent a complete rebranding that included a new logo, corporate colors, in-store signage, website and image apparel for its 8,600 employees. Rexall strives to be Canada's complete healthy daily living destination and, as such, wanted to communicate this message through its rebranding. Its tag line underscores this: "Easy to feel good. Every way. Every day."
Unisync created a line with modern sensibilities, and the result gives wearers an approachable yet professional look. Pants, polos, shirts, lab coats and tunics are constructed of easy care, soft fabrics in contemporary shades, a departure from the colors previously used. The outfits complement the stores' redesigned interior, giving the space a more tranquil, calming feel, while still emphasizing the professional edge for every job function and the company.
Category: Hotel, Multi Unit Recipient: Marriott Corp. Supplier: Cintas
Winner in the multi-unit hotel category, Marriott Hotels & Resorts, the signature brand of Marriott International, partnered with Cintas to create the RED Collection, a new line of contemporary suiting that speaks to the brand's heritage and passion with bold red hues.
As Marriott Hotels & Resorts' signature color, red plays an intricate part of the uniform program, standing out against backdrops of charcoal grey or black while making bold, modern statements in the form of accessories. To get the right look, Cintas used its new washable Black and Red Endurance fabrication, an option that gives the wardrobe a modern, yet elegant appearance.
"Symbolizing passion and energy, red shows up throughout the Marriott collection as the thread that ties all the pieces together," says Jeff Marino, creative director at Cintas. "The stylish, contemporary design provides Marriott's team with impeccable taste and style, and emphasizes their role around the world as true hosts."
Category: Hotel, Single Unit Recipient (tie): Grand Hyatt, San Francisco Supplier: Cintas
For San Francisco's Grand Hyatt, Cintas fashion designer Robert Fajfrowski created uniforms that reflect the city's trendy atmosphere and strong emphasis on architecture and design. Intangibles such as a unique cut to the garments and innovative use of trims, textures and colors work to convey a funky yet contemporary feel that is more high-end boutique than the average uniform program.
The outfits were created to complement the newly renovated front entrance, lobby, banquet hall, restaurant and lounge space and are worn by customer-facing employees in these areas.
"The key for this client was to depict a progressive hotel experience through funky, yet professional uniform designs," says Fajfrowski. "A huge inspiration for the program was the hotel's brand identity and San Francisco's reputation as a trendsetter."
Todd McKeown, vice president of Global Hospitality and Gaming for Cintas, says, "We are very proud of the work that went into these apparel collections and honored that they are being recognized by the NAUMD awards. The awards are a testament to our team's ability to create innovative, stylish apparel and deliver workwear programs that meet our clients' objectives. It is inspiring to see our customers' ideas develop into image programs that reflect their unique brands."
Category: Hotel, Single Unit Recipient (tie): Disneyland Hotel Supplier: The Walt Disney Company
The Disneyland Hotel is a 973-room hotel located at the start of the Anaheim, Calif., landmark Disneyland Resort. Besides being a family destination, the hotel also functions as a world-class business and convention center.
Creating a cohesive look for this dualpurpose property was a challenge. Garments needed to reflect the building's mid-century esthetic while incorporating the modern elements business travelers have come to expect. The indoor/outdoor environment of Southern California also factored into its functional needs.
The designer started by selecting a muted blue color scheme that tied together the hotel's many interiors. For the valet program, soft-colored outfits keep employees cool and looking fresh, and wrinkle-release fabrics keep them sharp. The option of trousers or shorts also adds to comfort and presentation.
The look becomes more tailored as guests move further into the hotel. Bell services wear a banded collar shirt that is complemented by the addition of a tailored vest. There's a subtle gothic "D" in the vest jacquard that lets guests know they have arrived at a Disney destination. Front desk hosts and hostesses wear singlebreasted blazers in a tone-on-tone navy stripe jacquard, slim cut for that mid-century feel. Hosts have a soft blue and white blazer stripe dress shirt and a four-in-hand tie and pocket square with that classic gothic "D." Hostesses pair their blazer with a pencil skirt, cut to the knee, and finish it off with a white spread-collar blouse with turn-back cuffs. It's a look fitting any luxury vacation or business destination.
Category: Special Recognition Recipient: Mary Kay Supplier: GKdirect
Achieving the 50-year mark in business is one of the most celebrated anniversaries, and with Mary Kay it was no different. The goal was to create a unique look that would make a statement and stand out from any other look of the past.
And what a statement it makes. The 50th Anniversary Collection, "All That Glitters is Gold," features three jacket options for Directors to choose from, including a classic blazer, long topper and biker style. In addition, the collection features matching skirt options as well as coordinating shell and dress options.
The classic blazer is a pleated portrait collar jacket that has long sleeves that can be worn rolled up or down. This jacket features a larger spread collar with a horizontal pleating detail. Princess seeming on the front and back give the jacket a more tailored look.
The long topper has been updated with a slightly shorter cut and three-quarter-length sleeves. It features the same collar treatment as the classic blazer and has a three-button front closure. Gold zippered pockets with flaps add an extra flair.
The biker jacket features three-quarterlength sleeves and a vertical pleated collar. The asymmetrical zipper creates an updated look and the exposed gold zippers and buttons keep it edgy.
Skirt options include long or pencil styles, featuring a unique contour waistband to create a flattering silhouette. There's also a cheetah print dress and shell that adds an element of fun to the collection.
All tailored pieces are made of 74 percent polyester, 25 percent rayon, 1 percent Lurex fabric and are fully lined in 100 percent polyester black fabric. The dress and shells are made from 95/5 polyester/spandex material.
Category: Transportation, Services Recipient: Con-way Freight Supplier: Arrow Uniform
Con-way Freight's uniforms were created with employees, for employees. The objectives in designing new company uniforms were to enhance safety and improve employee satisfaction through increased quality and comfort while remaining budget neutral.
To accomplish this, Arrow Uniform partnered VF Manufacturing with Conway's uniform project team and a group of 40 uniformed employees across the U.S. and Canada, known as the Employee Uniform Advisory Committee, to create new uniform garments with a timeless professional image. The program is used by three employee groups: drivers, supervisors and customer service reps, and shop technicians.
These groups have various work environments, calling for specific uniform needs.
Con-way freight drivers work during the day within a city environment and at night over the road. They drive, load and unload freight, and work on docks, many of which are open-air docks, so they are often exposed to extreme weather conditions. Garments needed to be comfortable yet durable, with performance enhancing features to protect against the elements.
Supervisors and customer service reps typically work in both an office and dock environment and must be comfortable in both. Con-way Freight's docks are typically very long, and their line haul drivers go from service center to service center, so their ability to visually identify a supervisor by his or her uniform appearance was the primary concern.
Lastly there are the shop technicians who service the tractors, trailers and forklifts often working on their backs under equipment and using welding equipment which creates sparks that can burn uniforms. As a result, Con-way Freight required 100 percent cotton fabrics that would not melt on skin like polyester could.
Category: Transportation, People Recipient: Air North – Yukon Airlines Supplier: Omega Uniform Systems
Air North – Yukon Airlines is a regionally based carrier providing service within the Yukon and British Columbia, Alberta, Northwest Territories and Alaska for more than 35 years.
The company recently rebranded, requiring new uniforms to reflect its updated, progressive image. The end result is a modern and fashionable take on classic airline uniforms.
Flight and passenger attendants wear dark navy apparel, accented with the brand's signature orange found in the logo and on the aircraft. Employees can choose from a variety of uniform pieces depending on the temperature, which can range from very cold to moderate.
Flight attendant suiting pieces are a poly/ wool tropical blend with inherent stretch for ease of motion and fashion-forward, body flattering styling. The all-female passenger service outfit pieces are made of a washable poly/viscose/lycra stretch for comfort, ease of movement and, most importantly, easy care. Numerous fashion features from retail have been incorporated into the garments without sacrificing the comfort and durability demanded by the rigors of the passenger service attendant's job.
The custom suiting pieces are manufactured locally in Vancouver, British Columbia, ensuring both high-quality garments and timely turnaround service for Air North.
Category: Community Service Recipient (TIE): City Year Supplier: Aramark
City Year was founded in 1988 by Michael Brown and Alan Khazei, then-roommates at Harvard Law School, both of whom felt strongly that young people in service could be a powerful resource to address America's most pressing issues including the high school dropout rate. They are committed to leveraging the talent, energy and idealism of corps members to serve as tutors, mentors and role models in schools to help students stay on track to graduate.
The goals for the uniform program were straightforward: City Year wanted an image that was youth oriented, easily identifiable and understated. Through the use of polos, khakis and white shirts – garments already popular in today's culture – Aramark was able to create the desired look while offering comfort and durability as an added bonus.
What results is a perfect pairing of the classics, ideal for both the classroom and outdoor activities and community service. Khaki trousers can be worn with either a Wear-Tech cotton/poly blend pique polo with contrasting horn buttons or a crisp, tailored, professional button down collared Oxford. Both easy care options are treated with a soil-release finish helping the corps members look fresh throughout their workday. A black webbed belt with brushed nickel buckle adds a smart touch to this casual yet upscale image.
Category: Community Service Recipient (TIE): Girl Guides Supplier: Unisync Group Limited
There are more than 70,000 multi-ethnic girls from ages 5 to 18 living across Canada participating in the Girl Guides, an organization with over 100 years of history and a strong and growing future.
The hallmark of this program is a stylish new T-shirt. The contemporary design and fit is comfortable as girls participate in the wide range of activities that Girl Guides is all about, whether they are planting trees in a community garden, volunteering at their local food bank or canoeing down a river. Each branch of Girl Guides still has its own distinctive color, styled with accent colors in each branch's shirt – pink for Sparks, brown for Brownies, blue for Guides, green for Pathfinders and red for Rangers.
Two other items round out the wardrobe. A redesigned hat is an ode to the past, reminiscent of outdoor adventures yet fashionable in an urban setting. New sashes allow the wearer to proudly show off her achievement insignia and recognition badges.
The result projects a modern, practical and comfortable image – one that shows pride in being a Girl Guide.
Category: Healthcare Recipient: Ottawa Hospital Supplier: Unisync Group Limited
Going beyond what has come to be expected from a hospital scrub program, this new program is much more tailored and was designed for the logistics, housekeeping and food & nutrition departments of the Ottawa Hospital network.
Unisync created a custom designed scrub uniform consisting of a top that is a hybrid between a golf shirt and regular open-neck scrub top. It is available in three colors. The top is worn with a scrub pant that has a front leg crease and a more tapered leg, giving the pant a dressier, less baggy appearance than standard scrubs.
The wardrobe has been a hit with employees, who give it high marks for its comfort, quality and functionality. Additionally, the garments allow patients, staff and professional practice groups to readily identify and recognize members from other service providers within the hospital.
Category: Entertainment Recipient: DNC Sportservice Supplier: Superior Uniform Group
As the oldest name in sports hospitality, DNC Sportservice had a distinctive vision regarding its new apparel program. It had to incorporate its corporate values of hard work and high levels of service, as well as offer the Green Bay Packers fans a world-class experience while at Lambeau Field.
Superior Uniform Group utilized a mix of high-performance fabrics, a strong color palette and athletic-inspired designs to achieve DNC's goals. The concessions uniforms hold their form and style in the quick-service food preparation environment and also keep the staff comfortable. Items in this program include an easy-care graphite and black pique knit shirt, poly/cotton black pants, and waist aprons.
Managers project an aura of authority but still can perform the active duties needed for their workspace. They are outfitted in light blue button-down fineline twill shirts, available in both men's and ladies' styles for a personalized fit.
Category: Casinos Recipient: Zarkana Supplier: Red the Uniform Tailor
Zarkana is a Cirque du Soleil stage production housed at the Aria Resort and Casino in Las Vegas.
While comfort or enhanced image tops the list of most customer demands, Zarkana's goals were much more out of the box. The title Zarkana is a fusion of the words "bizarre" and "arcane," which refers to the strange aura and atmosphere of a place and its inhabitants. With this as inspiration, Red the Uniform Tailor was asked to create garments that were, among other things, intriguing, eerie, gothic and mystical.
Such requirements demand a custom approach. Not only did the designs need to capture the show's overall theme, they also needed to be functional and look good on all shapes and sizes. The retail jacket alone has more than 55 cut pieces to achieve the magical, bizarre feel they were seeking. Different size patterns are mixed together on the jacket worn by box office employees. And peplums were incorporated along with faux front closures to avoid wear and tear.
There are other custom touches: The cummerbund effect of the ladies' jackets are snapped in and allow for easy alternations, while special pockets for the usher jackets are designed to provide function without bulk. Each job function is distinguished by its own custom brocade that serves to complement and pull the program together.
Category: Service and Industry Recipient: Toyota Motor Manufacturing Supplier: GKdirect
GKdirect provides team member uniforms to Toyota Motor Manufacturing employees in facilities across the United States. Each year, it partners with Toyota to introduce a new line of spring and fall items as part of its uniform collection. Featured products from the fall 2012 collection include the North American shop jacket, a custom jacket for the launch of the 2013 Avalon, and a custom Dickies jean.
The cornerstone piece of the fall collection was the launch of a new custom shop jacket offered to various Toyota Motor Manufacturing plant locations and product engineers. The jacket is made of 100 percent cotton, is mutilation free and can be worn on the production line. Many unique details were included to make it attractive in both style and function. Convenience features include pen pockets, inside pockets, waist and chest pockets, interior adjustable waistband, radio loop and storm flap. Gray and navy color blocking is highlighted with red piping throughout the jacket and is available with the Toyota logo and also the option to include name personalization.
The Avalon jacket is a soft shell performance jacket available in male and female styling. The active-style jacket had two custom logo placements commemorating the event.
In addition, GKdirect introduced an exclusive, 100 percent cotton denim carpenter jean. This great fitting, functional jean was produced by Dickies to meet the specific requirements of Toyota. Manufacturing without rivets and without a hammer loop greatly reduce the opportunity to scratch vehicles in production or catch on machinery, resulting in a mutilation free jean.
2013 Best Dressed Law Enforcement Departments
---
Recipient: Wicomico County Sheriff's Office, Salisbury, Md. Supplies: Red the Uniform Tailor
Wicomico County Sheriff Mike Lewis has received many compliments about his office's uniforms through the years. But that wasn't always true.
When Sheriff Lewis was elected in 2006, the uniforms lacked uniformity. "Colors and shades of colors were inconsistent due to lack of detailed specifications and a low-bid process," explains Michael Bucks of RTUT, the agency's current supplier. "They needed to have a relationship, a partnership with a manufacturer, to achieve the desired look."
According to Bucks, they now wear the very best the industry has to offer. Uniforms are custom measured and custom made – and they are professionally dry cleaned, which the Sheriff's Office pays for.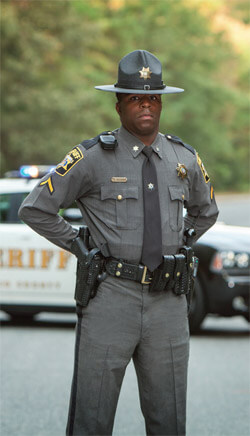 "We feel that it is important to look professional at all times," says Sheriff Lewis. "If a law enforcement officer looks professional in uniform, he tends to be respected more than officers whose appearance doesn't measure up." The department's 87 sworn members wear a standard uniform of gray and black. Trousers are striped in black, and shoes are either patent leather or plastic coated with permanent high shine. Ties and a campaign hat complete the basic look.
Wicomico County also uses a black work utility uniform for its K-9 unit and has specialized wear in SWAT team and ceremonial functions. Written procedures detailing how to wear each uniform component, weekly inspections and peer pressure all combine to ensure a top-notch appearance.
Recipient: Madison, Conn., Police Department Supplier: Red the Uniform Tailor
The town of Madison is a shoreline community, featuring scenic beaches, tidal marsh areas, lakes and rugged rural terrain, factors which played a role in the development of the Madison PD program.
Versatility and functionality were paramount considerations, as was seasonal changes. For daily patrol, officers wear a Class A patrol uniform offered in summer and winter versions. Leather gear is black basket weave, with brass buckles for supervisors and nickel buckles for patrol officers. Hats are to be worn at all times when officers are in public.
For traffic duties and construction site security, officers are authorized to wear a Class B BDU with embroidered insignia and tags. Manufactured by Blauer, these garments have sewn-on badges and embroidered name. Utility belts are either black basket weave leather or synthetic nylon gear. A baseball cap with department patch completes the look. The department also has uniforms for its K-9, bike patrol and emergency response team.
"The Madison Police Department strives to provide the highest level of service to our citizens and those who do business in or visit our community," says Jack Drumm, Madison chief of police. "We believe the appearance of our officers communicates a message that they are prepared and ready to meet the challenges we face on a daily basis."
Recipient: Texas A&M University Corps of Cadets Supplier: Fechheimer
The Texas A&M University Corps of Cadets was established at the university all the way back in 1876. The Corps of Cadets is a student military organization and provides more commissioned officers to the United States Armed Forces than any other school outside of the service academies. For those in its rank, the Corps of Cadets is not just a program; it is a lifestyle.
As would be expected, uniform standards are high. To develop this program, the university called on Fechheimer, a company as meticulous in detail and with a history as rich as that of the Corps.
All cadets have four uniforms: Alphas, Bravos, ACUs and Midnights. Class Alphas include a khaki long-sleeve shirt, black tie and khaki pants. This uniform is primarily worn to semi-formal occasions throughout the fall and spring. Bravos, the uniform most cadets wear to classes, include a khaki short-sleeve shirt with matching pants.
The Corps of Cadets wears the Army Combat Uniform during inclement weather. ACU's include a camouflage blouse worn over a tan undershirt, camouflaged pants and tan combat boots. Finally a special occasion uniform, or Midnights, is comprised of a slim dark olive drab shirt, khaki tie and midnight pants.
These cadets stand out from other students; one reason is because cadets are required to attend classes in their uniforms. Senior cadets can easily be distinguished, for they have the privilege of wearing "Senior Boots."
Recipient: Aberdeen, Md., Police Department Supplier: Red the Uniform Tailor
"If you see a guy who is looking sharp and professional, it gives you, the victim, a little more confidence," says Aberdeen Police Chief Henry Trabert. "Sometimes it gives you the ability to have a successful outcome of whatever the situation is."
The department's uniform has changed over the past 20 years, shifting to its current gray-and-black color scheme and adding new uniforms for its bike patrol and SWAT team. There's also a BDU Class B uniform.
The agency also has stricter requirements now for officers going through inspection during roll call. "We did little things to it to make it better looking, more professional,"
Trabert says. "It really does make a difference." Officers wear gray shirts in either a long or short sleeve, with the department patch affixed to the shoulder. Trousers are black, striped with gray. An eight-point cap completes the everyday look.
"We just feel first impressions are the best," adds Trabert.
Recipient: Louisiana State Police Supplier: I. Spiewak
While some things change, others remain the same, and for good reason.
Such is the case of the Louisiana State Police. The current uniform, more or less, has been around since 1973 yet is still relevant. On the whole, it's a classy, understated ensemble that has won the Best Dressed Award twice. "The Louisiana trooper uniform continues to be one of the most recognizable in the country with its color scheme and our state clearly represented through the badge and patches," says Police Superintendent Col. Mike Edmonson.
The entire uniform is pulled together by a deep shade of navy blue, from the slacks to the double-breast-pocketed shirt to the iconic state trooper campaign hat. The pocket flaps, shoulder straps and hat brim are outlined in brilliant gold piping, complemented by the gold Louisiana-shaped badge and brass buttons. One of its suppliers, I. Spiewak, submitted this department for best dressed consideration.
Recipient: Florida Highway Patrol Supplier: VF Imagewear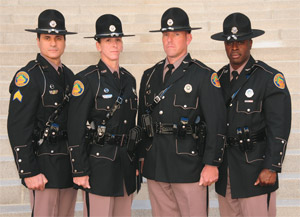 Like most law enforcement personnel, Florida Highway Patrol troopers take pains to maintain their smart look each day. Written specifications dictate the level of gloss for their patent-leather shoes, the sheen of the buckles on their shoulder straps and the positioning of their insignia pins on the cross-stitching of epaulets.
"When you look professional and sharp in uniform, it instills a sense of pride in troopers and sense of dread in criminals," says Major Cindy Williams, commander of Central Florida's Troop D. "Studies interviewing prisoners found that when they see an officer who looks legit, it sends a psychological message that the person is in control."
For their Class A look, a long-sleeve brown shirt and pants is worn with a black campaign hat, tie and black shoes. Traffic wings are affixed to the left side of the shirt's collar; FHP insignia to the right. Stars, bars and service patches are sewn on the left sleeve one-half inch above the top of the cuff.
The crisp appearance is also functional and comes with modern sensibilities. For instance, the poly/cotton fabric is flame resistant, and pants for the motorcycle unit include stretch for ease of movement. And motorcycle boots are not boots at all, but a twopiece shoe with a flap that wraps around the calf for greater mobility and protection.
This is the first best dressed honor for the Florida Highway Patrol, just in time for its 75th anniversary next year.
Recipient: Hillsborough County Sheriff's Office, Tampa, Fla. Supplier: VF Imagewear
From the time new recruits are trained, professionalism in appearance and integrity is instilled. This is a very visible agency whose public image is highly regarded.
The Hillsborough County Sheriff's Office Class A uniform begins with all deputies in dark green trousers with a black stripe on the sides. The shirt is a white poly/cotton button-down with chest pockets, epaulettes and shoulder patches. Deputies wear silver five-point star badges; those above the rank of corporal wear gold badges. A black tie is worn with the Class A dress uniform, and only the command staff wear black dress jackets. Black shoes or boots are also worn.
Hats are not typically used, but they are a plain green straw Stratton type. The black duty belt is Uncle Mike's Sidekick in faux leather basket weave. Green Gore-Tex jackets or black sweaters are approved for winter wear.
The Sheriff's Office is continually on the lookout to upgrade its professional appearance. New fabric technology and design features to enhance performance, appearance, comfort and functionality are key.
Interested in entering the 2014 Best Dressed Public Safety or Image of the Year awards? Entry materials will be available in the fall. You can learn more about either program by visiting the NAUMD website, www.naumd.com, or by emailing Richard Lerman, [email protected], or Jackie Rosselli, [email protected]