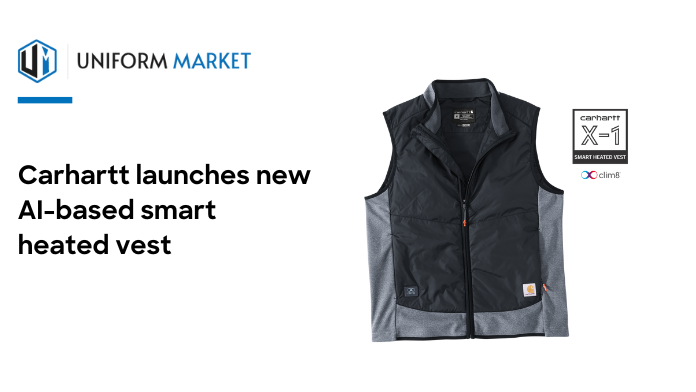 Carhartt has unveiled its latest innovation in workwear: the Carhartt X-1 Smart Heated Vest, designed to provide maximum comfort in cold weather conditions. Developed in partnership with clim8, the intelligent heated vest is designed to regulate body temperature and provide personalized heat and comfort both on and off the job.
The lightweight and durable vest responds to real-time temperatures, activity levels, and changing conditions. It eliminates the need for layering and overheating in cold-weather gear, offering a personalized approach to regulating warmth.
"Mother nature presents all sorts of challenges, and this cutting-edge technology will enable users to manage their body heat and enjoy optimal comfort in cold conditions," said Alex Guerrero, Senior Vice President, and General Manager of Global Products at Carhartt.
"With changing temperatures, different work environments and fluctuating activity levels, our new heated vest offers a personalized experience and functions as a reactionary approach to body heat that enables users to get the job done regardless of the environment or climate." adds further.
The next generation of Carhartt workwear adapts to weather conditions
With three strategically-mapped heat zones across the torso, the Carhartt X-1 Smart Heated Vest monitors temperature in real-time, analyzes the wearer's profile, environment, and activity, and safely activates heat. It regulates warmth to reach optimal comfort, reducing bulk by eliminating the hassle of adding and removing layers.
Powered by clim8® intelligent thermal technology, the vest offers numerous technological advantages over other heated technologies, including intelligent heating modes that detects:
When to start/stop heating
An auto on/off interface that detects when the vest is put on or taken off, and
A smart battery system that optimizes usage to ensure longevity.
Users can pair the vest via Bluetooth technology and calibrate it to their personalized comfort settings using the clim8® smartphone app. The clim8 AI-powered technology will automatically provide heating when it's needed to ensure the body remains at a comfortable temperature, maximizing performance despite cold mornings or late-night job sites.
"At clim8 we are proud of the launch of the Carhartt X-1 Smart Heated Vest. Both teams have worked intensely over the past 2 years on field and lab testing to bring a cutting-edge product, merging Carhartt's strong DNA of durability, performance and clim8's unique thermal experience" said Florian Miguet, CEO of clim8. 
The Carhartt X-1 Smart Heated Vest powered by clim8® intelligent thermal technology is the latest product unveiled from Carhartt's innovation pipeline. Carhartt X, the new program designed to push the limits of what is possible in workwear, creates exclusive and advanced small-batch concepts that are built to take on the next frontier.
The Carhartt X-1 Smart Heated Vest is priced at $220 and will be available on Carhartt.com.
About clim8
Founded in France in 2016, clim8 provides high-end personalized thermoregulation technology dedicated to smart clothing. With strong expertise in thermophysiology, IoT and e-textiles, the clim8 team pushes design and testing conditions to the extreme to deliver the most durable and highest quality heated garments in the industry. More information on myclim8.com
Also read: Browzwear And Crystal International to Bring Sustainable 3D-Powered Solutions