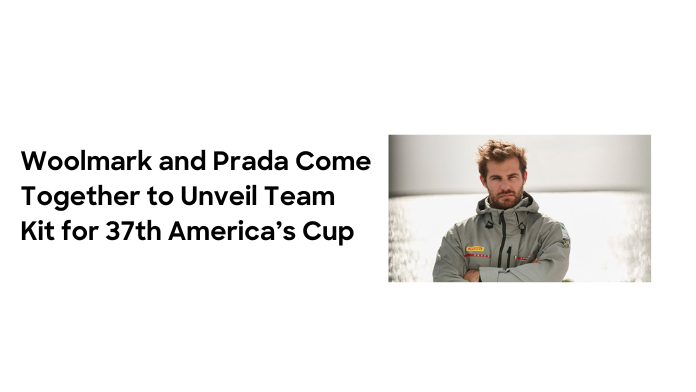 The Luna Rossa Prada Pirelli sailing team's technical team kit was unveiled by The Woolmark Company in collaboration with Italian luxury fashion business Prada for the 37th America's Cup.
Prada and The Woolmark Company initially worked together in 2019 to expand the technical kit and incorporate performance apparel for running, cycling, and other gym-based activities. 
Performance and functionality were prioritized when designing products, and the conditions faced by the Luna Rossa Prada Pirelli team were taken into consideration. These conditions included elevated temperature regulation, moisture management, and the incorporation of Merino wool fabric. 
For instance, the cycling suit has been specially designed to meet the demanding conditions of the Luna Rossa Prada Pirelli team including enhanced temperature regulation and moisture management benefits, all thanks to an innovative Merino wool-rich fabric.
"Product innovation has once again been a crucial factor when designing the technical kit for the Luna Rossa Prada Pirelli team," said John Roberts, Managing Director of The Woolmark Company.
Merino wool is preferred since the material improves ocean health and decreases its effect on the environment. The fabric is biodegradable and it is scientifically proven that it does not cause microplastic pollution.
"Luna Rossa Prada Pirelli and The Woolmark Company consolidate their joined commitment in terms of innovation, technology and social responsibility by renewing their technical partnership," said Lorenzo Bertelli, Prada Group Marketing Director and Head of Corporate Social Responsibility
"The last edition proved how Merino wool is the perfect partner to ensure high-quality performances thanks to its natural qualities. We are pleased to extend the presence of this 100% natural fiber also in the training uniforms, underlining once again the team's commitment to safeguarding the oceans" adds further.
Also read: The LYCRA Co. Introduces THERMOLITE® EVERYDAY WARMTH for Socks