By Jackie Rosselli
The North-American Association of Uniform Manufacturers and Distributors (NAUMD) is out with its annual list of best-dressed companies and public safety departments. This year's recipients – and the designers, manufacturers and distributors who created the programs – were recently honored at an awards reception in Las Vegas. Thirteen companies were awarded the association's Image of the Year Award, a program honoring excellence in the design and wear of corporate apparel. Six departments took home the grand prize in the 37th annual Best Dressed Public Safety Competition. The contest recognizes the important role uniforms play in law enforcement and is awarded to both the user and manufacturer of the program.
2014 Image of the Year Recipients
Entertainment: The Wizarding World of Harry Potter – Universal Orlando
Fans are just wild about Harry; that is, the Harry Potter uniform program found at Florida's Universal Studios. From the outset, the goal was to be true to the Harry Potter films. Everything needed to look genuine and authentic. The Universal creative group and wardrobe team worked closely with Warner Bros. to ensure the theme park area was as close to the film product as possible. It was important for guests to feel as if they truly walked into the world of Harry Potter. The challenge? The program needed to be true to the film but also work in the Florida weather. And garments had to be job functional, even though they are more costume than uniform. For example, safety is the main concern for ride operators, so garments are made to ensure they don't get caught on things that could drag them into moving parts. Cooks wear 100 percent cotton outfits, keeping them cool and protected while looking their best. The Wizarding World of Harry Potter includes wear for attractions, merchandise, foods, show support and park services. Arguably the most recognized is the "Harry Potter and the Forbidden Journey" wardrobe. To duplicate what was worn in the film, shirts needed to be custom-dyed. Custom-dyed cotton was used to line the four-color school robes, and patches were matched from art provided by Warner Bros. Ties are similarly treated and made with break-away Velcro closures. Slight modifications were made to a couple of pieces in a nod to the area's climate. For instance, the lining on the robe is only taken to the side seam. In the film, the sweater was made of lamb's wool; in the Florida version, sweaters are a more user-friendly poly/rayon. Of course, each robe comes equipped with a wand pocket. In Harry's world, anyone could need some magic at any time and without warning.
Gaming: SugarHouse Casino – Arrow Uniforms
Looking for a sweet night out on the town? Then head on over to the SugarHouse Casino, a fun, friendly and totally modern gaming facility housed in a former sugar refinery in the heart of Philadelphia. In a nod to the previous life of the building, the SugarHouse program combines modern styling with several traditional elements. For instance, the casual untucked shirt hems with faux fold-up cuffs on the sleeves gives the program a hip, trendy and decidedly urban appeal, while a logoed ribbon and signature, or "sugar like," brocade underscores its history. Using the signature brocade in a variety of colors and complementing it with a coordinating shirt color also makes it easy for customers to distinguish between job functions. The fact that SugarHouse is listed as a "Best Place to Work" by the Philadelphia Business Journal comes as no surprise. At SugarHouse, employee satisfaction isn't some tired cliché. Feedback is eagerly solicited by management in all matters, down to the type of apparel worn. Employees submit wish lists prior to any re-design, and wear testing is performed throughout the casino, allowing input on the feel, fit and functionality before final production. The new cocktail uniforms exemplify the process. The fabric, a poly/spandex woven blend, allows for easy movement and was an employee top pick. The table games shirts also were designed with functionality in mind. The built-in action back center pleat allows dealers to reach across a table with ease. Other features include colorfastness, ensuring the garments maintain their bright, fresh appearance. All job functions are covered by this program. Front-of-the-house uniforms consist of mainly custom designed and manufactured garments while the back-of-the-house is primarily stock garments.





Hotels, Multi Unit: Hyatt – Cintas
Hyatt and Cintas brainstormed together to invent the perfect collection of contemporary styling, modern minimalism and unique signature apparel. Synonymous with excellence, Hyatt is on the higher end of hotel chains and wanted to maintain a clean and sophisticated look. Equally important was having a unique branded label. After some research, the clear choice was the AR Red Brand, a newly established contemporary division of Austin Reed. Austin Reed is known for being a prestigious international brand, renowned for design excellence, premium quality and rich British tailoring. Hyatt's program is worn throughout the entire hotel through every job function from doorman and front desk to housekeeping and engineering. In such a large program, there are bound to be standouts. The front desk suiting, along with many of the bell/door materials, utilized in this program is manufactured using the AR Red fabric. Eco-friendly, it is a blend of 50 percent wool, 30 percent recycled polyester and 20 percent sorona, a plant-based yarn that has superior color retention and natural stretch abilities. Plus, it has a luxurious feel and look. For Hyatt, it was important that all customer-facing job functions throughout the property make a good first impression for its guests. In that spirit, many of the designs are retail-inspired, with multiple merchandising options. As such, many ensembles, even for bell/door personnel, are much more lifestyle oriented so that employees feel comfortable and professional in what they are dressed. Such exacting standards trickle down to the smallest detail, with nothing left to chance. For example, program designers completed a "day in the life" project in which they performed tasks – in actual uniforms – that hotel employees would normally do. The experience gave birth to a few enhancements, including a re-engineered bell/door jacket with additional inside pen pockets. Not only did Cintas have to design and think about different job functions, but it also had to consider all of Hyatt's locations. The chain is located throughout the entire United States and beyond, so the garments needed to fit in hot and cold climates as well as urban and resort settings. The solution was to offer a multitude of styles and options that aligned with the customer's needs.
Hotels, Single Unit: St. Regis, New York – Cintas
Perhaps the last place one would turn for design inspiration is tsarist Russia. But the period, or at least the uniforms worn during this time, was the driving force behind the new uniforms for New York's iconic St. Regis Hotel. St. Regis NY is the flagship property for a brand that is accustomed to hosting the wealthy and powerful, and its interior reflects this with lots of dark wood, brass accents and rich, luxurious upholstery. The design challenge for the uniforms was fairly straightforward; garments needed to reflect modern tastes, while staying true to the property's legacy. Thinking out of the box, Cintas patterned its ideas after Russian military uniforms from the 19th century. Asymmetrical necklines with high collars, trims and gold buttons are just a few styling options of the period, and all proved to be elements perfect for the St. Regis. The trick, of course, was incorporating this into 21st century apparel. Cintas achieved the effect through the use of slimmer lines, juxtapositions of textures and a fairly monochromatic color palate. There is a winter doorman coat in custom red wool with gold buttons, asymmetrical closure and an envelope fur hat that looks like a uniform worn by a Russian army cavalry officer. The same look carried through the bell and porter positions. Inside the hotel, signature pieces include the concierge, dressed in a tail coat with modernized styling, and butler garments, colored in gray and burgundy with gold accents. All garments are constructed of poly/wool blends, ensuring their durability and functionality. They also ensure a high end, polished appearance, fitting for a brand associated with excellence.
Restaurants, Quick Service (Tie): Wendy's – Barco Uniforms
The Wendy's credo reads, in part, "Quality is our promise and our recipe." Supplier Barco Uniforms collaborated with Wendy's to create a program that stands up to this promise, using the best ingredients: high performance fabrics, advanced technology for soil-release and moisture wicking mixed with styling that has a young, active attitude. The result is a uniform that represents the Wendy's brand. Male and female crew wears high-performance 100 percent polyester mesh polos engineered with soil-release and moisture-wicking technology to keep them fresh and sharp looking throughout the day. Both male and female polos are offered in red or black with the Wendy's wave logo embroidered on the left sleeve. The female polo has a feminine fit, featuring a three-button V-neck with a partially functional button placket and a two-button faux cuff. The polo for males includes a fully functional three-button placket with front and back shoulder seam details. Recommended for behind the counter is a new, black and grey stripe apron with the Wendy's cameo patch at the center chest. Made from 65 percent poly / 35 percent cotton, the garment is lightweight and durable with soil release that allows for easy laundering. Manager's shirts are offered in charcoal, ruby red and white, with long-sleeve versions offered in charcoal and white. They all include the Wendy's wave logo embroidered at the base of the left sleeve. Female manager shirts have a subtle open neckline with princess seams and a small pocket on the left chest for functionality. They can be worn with two optional scarves: the red chiffon oblong scarf with a Wendy's cameo diagonal pattern or a black chiffon square-shaped scarf with a Wendy's cameo pattern. The male manager shirts are button-up to the neck and include a button-down collar that helps finish the look with or without the optional neck ties. They include a back pleat for added design and function with a functional pocket on the left chest. This is worn with either a black jacquard tie with thin grey diagonal stripes, or a red jacquard cameo stripe tie. A silver name badge finishes off the look.
Restaurants, Quick Service (Tie): CKE Restaurants – Aramark Uniform Group
It's hard to stand out in the competitive quick service restaurant market, but CKE Restaurants, better known as Hardee's and Carl's Jr., has done exactly that with its new uniform program and some savvy marketing. Originally each company had its own logo. Branding the image with the "Happy Star" logo for both brands ties the company and its marketing goals together, creating a stronger brand identity. To further distinguish themselves from the competition, they target the "hungry guy," as opposed to the value meal consumer. The Carl's Jr. and Hardee's crew program consists of a red camp shirt, designed to be worn untucked. It's a retro-style bowling shirt with contrasting black accents and includes chest pockets and a screen-printed Happy Star logo on the back for brand enhancement. The camp shirt also comes in a female silhouette for a fitted, flattering look. The crew woven shirts are an easy-care blend and feature soil-release technology to keep employees looking neat, fresh and professional, shift after shift. The same styling options are offered to shift leaders in black with red piping and contrasting trim. This also comes in both male and female cuts. Managers wear a 100 percent polyester piqué performance polo. To round out the program, employees wear a custom black hat or visor with contrasting red accents and the Happy Star logo on the brim. Additional accessories include a choice of a three-pocket half apron, a pocketless bib apron or a two-pocket bib apron. Finally, the manager's polo has been updated with a performance polyester that wicks moisture from the skin for dry wear. They're shrink resistant too, for a fit that lasts and also feature soil-release technology for a well-groomed style.





Restaurants, Fine Food: Kelsey's – Unisync Group
Canadian casual dining chain Kelsey's has partnered with Unisync and an independent branding agency to re-energize its 88 franchised restaurants. Gone is the "Cheers" neighborhood concept of old; in its place is a fun, vibrant establishment designed to appeal to a younger audience. The look is pre/collegiate meets South Beach. The primary goal for Kelsey's was to design a streamlined program that was energetic, sociable, preppy and a little bit sexy, while allowing the employees the versatility to visually express themselves and show their personality and character. Employees are given a three pack of unique items (tees, henleys and server pouch) enabling them to select the styling and color they feel like wearing that day. Additionally, employees are able to add select accessories, such as belts of their choice to be worn with the custom server pouch. There are three employee groups: servers, hostesses and bartenders. Servers are provided with a three pack of t-shirts that includes various neck styles and colors. They can also select a unique double-collar fitted polo. Hostesses wear a stylish black polo dress, in 50/50 poly/cotton with great stretch for maximum comfort. Bartenders can wear either the polo dress or select from t-shirts colored in black. A quick note on the tees: they aren't an ordinary, run-of-the-mill shirt. To underscore its light-hearted, cool character, each is screened with a variety of fun phrases emphasizing key components of Kelsey's menu and culture. And though its target audience is single 20- and 30-somethings, anyone would feel comfortable at Kelsey's. Parents aren't afraid to bring the kids; the somewhat alluring attire is playful but not overly sexy.
Cruise Lines: Holland American Line – Cintas
Holland America sets sail with a program big on fashion and innovative style, transitioning itself from a line known for classic elegance to a ship on the vanguard of a new, more modern era. Working closely with Cintas designers, Holland America strived to make its uniforms more fashionable, eschewing the traditional cruise uniform look of its past. Cintas made a shipboard visit to discuss the wants and needs of department heads and crew members so they could develop a program that brought together all the necessary elements. Every uniform is designed with an exclusive venue or area in mind. Form and function now strike a balance, with the garments an integral part of the interior. The result is a collection that features unique uniforms designed for each area of the ship and a look sure to enhance the guest experience. The uniform redesign includes wear for dining room staff, housekeeping attendants and wine stewards. "The crisp new designs are a reflection of the gracious, elegant style of Holland America Line," says Hart Sugarman, deputy director of housekeeping operations for Holland America. "The new pieces are both practical and professional and enable our crew members to comfortably deliver world-class service while maintaining a fashionable appearance." Every Holland America ship sails with a full complement of professional tailors and a fully equipped tailor shop. Everything the tailors need — a full set of patterns, fabrics, buttons, zippers, sewing machines, hemmers, buttonholers — is right on board to make sure that the staff are kept looking their best in their smart uniforms. This is not the first time the cruise line has been recognized for its uniforms. Holland America earned IOY awards on two previous occasions, one in 2009 for the Tamarind restaurant uniforms and the other in 2011 for the Master Chef Room uniforms.
Transportation of People: Virgin America – Affinity Apparel
From the minute one steps onto a Virgin America aircraft or visits a customer service desk at their San Francisco hub, the fresh style and fun culture is apparent. So too is the company's new uniform program. Affinity Apparel partnered with Banana Republic throughout the design process and ultimately manufactured and distributed wear for pilots, in-flight teammates and guest services teams. In keeping with the Virgin America brand and signature onboard cabin design, the goal for the newly designed uniforms was to incorporate aviation details into a modern and clean look while maintaining both style and functionality for staff. For men, core pieces include military-inspired short- or long-sleeve woven shirts paired with a classic pleated or a more modern fitting flat-front pant. Ladies' core items also include short- or long-sleeve woven shirts featuring princess seams and a covered placket with custom red edge piping. Shirts can be paired with a sleek, flat-front pant or classic pencil skirt. An additional option is a fashionable ¾-sleeve shirtdress. All looks include classic aviation touches, such as shoulder tabs and button chest pockets. The standout item of this collection is the men's and ladies' leather jackets. Both styles consist of soft, lambskin leather with durable, polyester twill lining. Attention to detail is evident on the aviation-style pockets and shoulder epaulets featuring Virgin America logoed buttons. Additional outerwear options for both men and ladies include soft shell performance jackets and trench coats. Readers shouldn't be fooled by the fun, lighthearted style embodied in these uniforms. This airline also has a social conscious and believes in giving back. Travelers flying Virgin America in the months of February, August or December may note of the custom red dress and red sliders being proudly worn by in-flight and guest services teams; the outfits were created to support the American Heart Association and increase awareness for heart disease.
Retail Establishments, Non-Food (Tie): Huntington National Bank – Twin Hill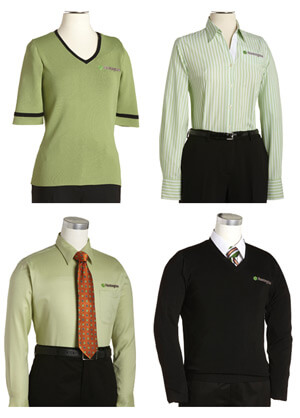 Huntington National Bank has more than 600 branches throughout Ohio, Michigan, Indiana, Pennsylvania and West Virginia, and within each office, there are two to three job families. The uniform program was conceived with consistency in mind. At management's request, the apparel's purpose isn't to distinguish between job functions. Instead, it provides a cohesive look that is professional yet welcoming to customers. Huntington's black, white and green apparel was first introduced four years ago during a rebranding process that also included the refurbishment of its branches and ATMs. Shirt and blouse options range from solid broadcloth to unique stripe patterns constructed in cotton-rich blends, many infused with wrinkle-resistant finishes, unbreakable buttons, soil release and other retail-inspired touches. The cotton-rich shirts provide the comfort and drape expected from a fine dress shirt or blouse but with the durability necessary in a corporate apparel product. "We are honored to be recognized by the Image Apparel Institute for our retail collection," says David Clifton, chief customer and marketing officer at Huntington. "Twin Hill has been a steadfast partner in helping us develop apparel that not only takes our brand to the next level but that generates enthusiasm amongst our colleagues and with our customers. We take pride in our Huntington green vest and congratulate Twin Hill on receiving this esteemed award." All customer-facing staff is required to participate in the program. The winning apparel can even be seen in a new series of Huntington television commercials that hit the airwaves in April.
Retail Establishments, Non Food (Tie): Chase Bank – Lands' End Business Outfitters
The Chase Apparel program with Lands' End Business Outfitters provides uniforms to 58,000 participating employees in over 5,600 retail branch locations nationally. Newness and fashion are an important part of this program. Lands' End works with Chase each season to introduce new, on-trend and appropriate styles, and this year that includes a new collection of silk ties and scarves. Easy care is the underlying focus, and Lands' End delivers with washable wool suiting separates, no-iron fabrics and anti-piling knit blends. In addition, soft blouses were developed specifically for Chase as a layering item under blazers. And with 70 percent of its uniformed employees female, sweaters, in particular twin sets, are an important part of the program. The basis color scheme is blue and black with pops of color coming from custom accessories. While the program has a wide variety of choice – an important goal for Chase – a classic style runs throughout the assortment. That assortment is not restricted by job function. However the styles, price points and new product launches are designed to satisfy each job function from teller to private banker to business banker and home lender. One of the goals of the program is that associate bank managers, branch managers, private client bankers, tellers and partners are all a part of one team working together to serve Chase customers. Higher-end accessories have been included for all but especially for private bankers and partners, who tend to deal with a more affluent customer base. For them, French cuff shirts, cufflinks, broadcloth dress shirts and no-iron pinpoint dress shirts are the norm. Is the program well received by employees? Consider the following: the bank provides employee allocations to new hires and an annual anniversary allocation to all tellers for use on the "company spend" website. Approximately 98 percent of all orders are generated here. Employees who wish to purchase additional Chase apparel above and beyond their allocation may do so on the "employee spend" site – where nearly half of all program orders originate.
Retail Establishments: BP Oil – Affinity Apparel
The BP Oil uniform program had been in place for over five years before corporate and Affinity Apparel collaborated on a refresh. The uniforms are utilized by customer-facing employees working in a demanding, highly stain-prone environment with varying climates across 10,000 convenience stores throughout the country. Market research determined that the care environment for many convenience store uniforms was inconsistent, with many employees choosing not to iron their garments before a shift. Knowing this, it was important to execute a design that would look crisp and clean coming right out of the dryer, which is exactly what Affinity did. The Affinity team designed a brand new core uniform piece that easily coordinates with the existing line of apparel already in place: a custom performance polo shirt offered in male and female styling with long- and short-sleeve options. BP wanted to update not the only design of the program but also offer updated fabric technology. A 100 percent polyester shirt was developed to regulate wearer body temperatures and provide wrinkle- and stain-resistance features. Through the use of BP's signature green in the color blocking, the program now portrays a consistent message throughout every site location. And the wicking fabric ensures easy wear and care for BP associates. In addition, Affinity designed a snap-on promotional piece that can be added to BP's existing name badges. Done to support the company's customer loyalty program, a Driver Rewards logo embroidery was also created and can be added to any BP garment upon request. 2014 Best Dressed Public Safety Departments
Hartford Police Department – Fechheimer
The patch on the shoulder of every Hartford, Conn., police officer is adorned with the Latin phrase Post Nubila Phoebus, or "after the clouds, the sun." This being said, the sun is clearly shining on the Hartford PD, as the department is one of only six nationwide to receive a 2014 best dressed nod. Like all departments, the Hartford PD strives to look its best. But officer safety is an equal concern, one that is reflected in its uniform choices. For example, the department issues the best quality ANSI certified five-point break-away traffic safety vests, ANSI certified rainwear and reversible outerwear with additional reflective lettering added to insure an even higher level of visibility and identification. It also works with its supplier, the venerable Fechheimer, to further ensure other not-as-obvious safety features. By incorporating technology into proven fabrics, the department now has uniforms that alleviate heat, reduce exposure to deadly bacteria and protect against the sun's harmful rays. "We've worked hard to ensure that our officers have the most advanced fabrics available to help them perform as best as they can," says Deputy Chief Brian Foley. The Hartford Police Department's everyday uniform is navy. Trousers are made with the "Freedom Fit" waistband system, providing the wearer with comfort and ease of movement. An eight-point hat is also worn, and for the rank of sergeant and above, each is adorned with a half-inch wide gold nylon braid located above the cap visor. The department's various tactical units are distinguished by uniform color, style and embellishments: ERT (SWAT) members are the only unit wearing O.D. Green for operators and Mulitcam for snipers; the bomb squad is the only unit authorized to wear black. Additionally, the motor unit has a different color stripe than the mounted unit. "We are very proud and honored to have been selected," adds Foley. "We feel our uniform is very professional, tactically advantageous and our patch reflects the tradition and history of our city."
Anderson County, SC, Sheriff's Office – Fechheimer
While Latin terminology reinforces the rich tradition of the Hartford PD, a more colloquial term serves as inspiration for the Anderson County Sheriff's Office new uniforms. "The Thin Blue Line" is a phrase made popular in books and movies, but in law enforcement, the term has great symbolism; it represents the camaraderie between police officers, the "line" standing between good and evil, the police and everyone else. It was only natural then that, when it came to a redesign of its honor guard uniform, Anderson County chose to eschew the standard gold piping and leg stripes for the more significant blue, echoing the thin blue line. "We are very humbled and proud to have been considered, much less win," says Lt. Jackie Wayne Mills about the best dressed nod. "This award shows the dedication of the members of our honor guard to present the most professional appearance during any event in which we participate." The Anderson County Sheriff's Office Honor Guard is the formal representative of the sheriff's office at all types of functions including funerals, parades, peace officer memorial events and other special activities. The guard also participates in welcoming back participants of the honor flight program. Officers who comprise the honor guard come from military and non-military backgrounds. Each member must present a professional appearance and possess a strong military bearing, discipline and stamina. Joining the honor guard is voluntary. Dissatisfied with their previous outfits, Anderson County Sheriff's Office turned to Fechheimer for their new look. Influenced by the U.S. Marine Corps dress uniform, the 15-member honor guard is dressed head to toe in crisp black and blue uniforms. "The man who runs the unit is an ex-Marine, so it made him proud to wear the uniform," remarks Fechheimer's Dan Balzofiore. The department utilizes several other uniforms, including wear for road deputies and special details which are colored in black. Green tactical uniforms are worn by the bomb squad, SWAT Team and CATCH unit.
Ohio State Highway Patrol – Roy Tailors Uniform Co./Galls, LLC
Uniform excellence is not just a bullet point on a report for the Ohio State Highway Patrol; it's a way of life for the troopers who proudly wear its uniform. With those crisp gray shirts, black-striped pants and campaign hat, the State Highway Patrol dress to impress. The Ohio State Highway Patrol has 2,000 uniformed professionals, including 1,600 troopers, 40 police officers and 500 others in service. Roy Tailors worked with the department to ensure a consistent, neat and professional appearance for all its employees, especially its state troopers. "The appearance of our troopers and civilian employees sets the tone for our daily operations, and our employees take great pride in the uniform and in serving all Ohioans," says Sgt. Vincent Shirey, a patrol spokesman. "After all, you only get one chance to make a good first impression." The "grayshirts," as they are known locally, also won the best-dressed award in 2003. From written uniform specifications and regular inspections, the patrol leaves nothing to chance when it comes to its distinctive appearance. Las Vegas Metro Police – Fechheimer It's not the first best dressed nod for this department, and no wonder – these officers look sharp! "You want people to have confidence in you, respect for you and a comfort level," says a department spokesman. "It's serious." Officers of the Las Vegas Metro Police wear well-fitted, immediately identifiable uniforms supplied by Fechheimer. The uniform's color scheme – brown shirts with tan pants and brown stripe – is the perfect remedy to mask the dust and dirt of the desert. Shirts include a generous, functional patch pocket with pleated inset and flap over the top and are affixed with the department's emblem on the sleeve. In inclement weather, a mock turtleneck is worn underneath, enhancing the already authoritarian look. To distinguish between ranks, the shirts of sergeants and above are affixed with stripes on the sleeves and gold insignia around the collar. As for specialized wear, two standouts can be found in the dress and motorcycle details. Attired in a more fitted and tapered pant, shirt, mock turtleneck, black boots and gold helmet, the motorcycle unit appears stylish yet professional. The dress uniforms include white gloves, white shirt and tie, and a peaked cap.
Las Vegas Metro Police – Fechheimer
It's not the first best dressed nod for this department, and no wonder – these officers look sharp! "You want people to have confidence in you, respect for you and a comfort level," says a department spokesman. "It's serious." Officers of the Las Vegas Metro Police wear well-fitted, immediately identifiable uniforms supplied by Fechheimer. The uniform's color scheme – brown shirts with tan pants and brown stripe – is the perfect remedy to mask the dust and dirt of the desert. Shirts include a generous, functional patch pocket with pleated inset and flap over the top and are affixed with the department's emblem on the sleeve. In inclement weather, a mock turtleneck is worn underneath, enhancing the already authoritarian look.
To distinguish between ranks, the shirts of sergeants and above are affixed with stripes on the sleeves and gold insignia around the collar. As for specialized wear, two standouts can be found in the dress and motorcycle details. Attired in a more fitted and tapered pant, shirt, mock turtleneck, black boots and gold helmet, the motorcycle unit appears stylish yet professional. The dress uniforms include white gloves, white shirt and tie, and a peaked cap.





Jersey City Police Department – Turn Out Fire & Safety
Courtesy, Accountability, Respect, Excellence, or CARE for short, is the Jersey City PD motto. Certainly, as the best dressed award acknowledges, the "excellence" refers not only to their duties but to their uniform program as well. "An officer's appearance is just as important as the professionalism and services they provide on daily basis," Jersey City Police Chief Robert Cowan says. "I'm extremely honored that the department was nominated and won the award for best dressed." Not all blue uniforms are the same; for proof take a look at the Jersey City PD. The basic uniform is traditional and hasn't changed much over the last 30 years. But it is worn with pride by the department's 895 members, and that's what makes it a standout. Regular inspections, too, ensure adherence to written specs, and officers receive a cash allowance to maintain a polished appearance. And of course, Turn Out has had a hand in crafting this winning look. Says Turn Out's owner Joseph Chiusolo, "Each day these officers put their lives on the line for the residents of Jersey City. To be effective, they require proper fitting uniforms along with state-of-the-art apparel so they can maneuver and be comfortable in all the incidents they have to deal with on a daily basis. We're proud to be a supplier, proud to be part of the tradition." The Jersey City Police Department also has wear for a number of specialized units, among them the bike patrol, K-9, motorcycle and SWAT team.
Florida Department of Agriculture Law – Galls
The Office of Agricultural Law protects Florida's agriculture and consumers through professional law enforcement in support of the all regulatory aspects of the Florida Department of Agriculture and Consumer Services. Headquartered in Tallahassee, the department has regional and field offices throughout the state. The uniform program is new and represents a complete change out for both dress and duty uniforms. "The reason we changed our uniform program was to find something more practical to our daily work," notes Capt. Dewayne Nash. Accomplishing this wasn't easy. Galls faced a challenge similar to the designers of the aforementioned Harry Potter costumes: how to make the garments more functional and maintain a sharp, professional appearance while in the hot Florida sun? For the dress uniforms, Galls relied on poly/wool tan shirts and pants manufactured by Spiewak. The uniform is custom, specific to the agency. Prior to this, the department wore spruce green uniforms. Duty uniform is the outfit that gets the most use. Previously spruce green and made of poly/cotton, the new look consists of Taclite tan shirts and TDU green pants, supplied by 5.11. "The uniforms chosen are more durable, lighter and offer increased functionality such as the vented back for our shirts," adds Nash. Interested in entering the 2015 Best Dressed Public Safety or Image of the Year Awards? Entry materials will be available in the fall. Learn more about either program by visiting the NAUMD website, www.naumd.com, or by emailing Richard Lerman, [email protected].