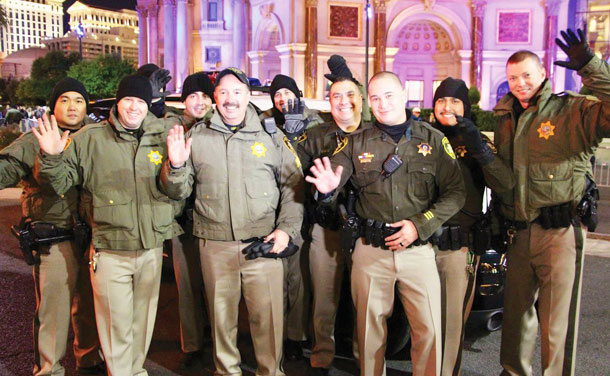 by Peter Hildebrandt
On top of all the other demands that today's police departments face, finding just the right uniform can prove to be a daunting task as well. The internet to some degree has changed things in unexpected ways, according to Doug Helmer, regional manager for uniform manufacturer Fechheimer.

"Those in the younger generation tend to want the latest in styles," explains Helmer. Law enforcement uniforms used to be very traditional and stayed the same over time. Now with the internet, everyone wants to be up on the latest trends.
"The young people today also like to go to work in more casual attire – including those working in law enforcement. While those in the older generation typically do not wear cargo pants as a part of their everyday wear, younger officers tend to like them. This is a generational thing," Helmer says. "Chiefs and sheriffs don't like the cargo pants because they look too military; the young like them because they do look that way."
Staying Ahead of the Curve

Fechheimer will work with police departments and other agencies or branches of the military by coming out with a design and letting those in that location wear-test the garment. The agency may for example be in the process of changing its styles. Fechheimer will try to craft for them whatever they want.

Helmer says, "Women tend to be especially fashion-conscious. But pants with very skinny legs and low hips are not always the most practical; it's hard to place a holster on low-hipped pants."
Complicating things are all the sizes – junior, miss, petite – that are available in commercial clothes stores. In the case of uniforms, women often end up buying the men's pants and then have the waist taken in and the lower part of the legs tapered, according to Helmer. Confusion is largely due to something called vanity sizing, a technique used basically to make women feel better about their body type but at the same time causing the size numbers on the garments to vary widely.
"There are a number of different size descriptions for women. Vanity sizing has the so-called philosophy that if I make you sound like you are smaller than you are, you will buy my garment," says Helmer. "Those worried about the latest items in fashion are looking for something new. We ask the department or agency we're working with what they are trying to accomplish. But in the end it comes down to them wanting better goods at a cheaper price."

For the end user looking for something new, Fechheimer will identify and show them different samples and talk to them about what they're trying to accomplish before the clothes items are then wear-tested in the field. This phase can last from a week all the way up to a year. Typically the wear-test period is from two to three months. This is a way to learn what is good or bad about a particular shirt or trouser being considered.

He says, "Things are different now. Not that many years ago, a department would not make any changes for 10 to 15 years, and departments would watch what the guys were wearing much closer. Now it's almost as if no one cares anymore."

Police departments tend to follow two methods for handling uniform costs. The first is a uniform allowance – followed in most parts of the country. Under this system, in June or December of each year officers receive more in their paycheck which is to be used to purchase new items for their uniform. But in December, often this extra money goes for Christmas gifts.

"The other method is for the department to issue the uniform directly to the officers. In that case it's usually a better-looking uniform because they are telling you what to get and then issuing you replacement items when your clothes start to become worn or look bad. If the agency is big enough, we make the uniform to be exactly what they want, according to their specifications," Helmer says.

"Polyester is inexpensive but also tends to be hot and virtually unable to breathe. In some metropolitan areas, especially in the western United States, the most expensive materials are purchased for uniforms. The City of Las Vegas, for example, buys the most costly 100-percent-wool uniforms because they are much more comfortable and durable."
Finding the Best Fit for a City with a Large Police Force

One metropolitan police department in the western U.S. has been wearing a polyester/wool blend. Neither the specific department nor the officer we spoke to wished to be identified. They are currently wear-testing a polyester/cotton blend. Those pants being wear-tested are 47300 cotton/polyester blend from Fechheimer Uniforms. They will also be wear-testing shirts, specifically the 5.11 Cadillac model, according to their quartermaster. "That is actually not in production yet but should be ready early in 2015," she says.

"I issue all the uniforms and the duty gear for our agency. Our standard uniforms consist of a long-sleeve shirt, short-sleeve shirt, jackets and a bike uniform which includes shorts and t-shirts. We actually have officers on bikes year round, especially in the downtown. Those officers are issued jackets and long pants for their comfort while on their bikes as well; we have some 20 officers on bicycles."
A bike helmet is worn by bicycle officers too in this very bike-friendly city. The main reason they are switching their uniforms is that those currently in use rip quite a bit, according to their quartermaster. They are not elastic enough for those using them. "Recently I've issued 20 to 25 new pairs of pants per week. We just want everyone to be a little happier with the quality of the uniforms. They should be worrying about their duties and not about getting new pants."

This city has approximately 1,000 sworn officers. Outfitting them all is a big job. "The percentage of women on the force is probably around 20 percent. The women's uniforms actually do not fit very well, and that is a reason we are looking into different material for those too," the quartermaster says.

"Shoes are only issued to the new hires. If an additional pair of shoes is needed, they have to buy their own pair. The shoes are black."

All of the city's different sizes of uniforms are on a computer spreadsheet. Everything issued is then recorded into the system. When a uniform is no longer usable, the quartermaster picks up uniforms from all the different divisions, removes the patches to be disposed of before the uniform garments are then discarded. She also takes all the pants to a nearby uniform company to be hemmed or altered. Once hemmed, they are sent back to the officers.

"Our main goal is to have better service to the officers so that they can utilize their time and do their job even better," adds the quartermaster. "I do save them time with my taking the pants to be hemmed and delivering those items by interoffice mail. I get a lot of requests for work on the uniforms by email or with a phone call. I used to work in a far different division of the department, but I now enjoy the challenges of this new work, keeping our officers out there doing their jobs – and at the same time looking their best."
Distinctive Uniform for a Busy and Unique City Environment

In 1973 the Las Vegas Metropolitan Police Department was created by the merger of the Clark County Sheriff's Office and the City of Las Vegas Police Department. LVMPD senior leadership is headed by the sheriff, elected by the citizens of Clark County, Nev., with other leadership positions filled by promotions from within LVMPD itself. As the pre-eminent police agency in Nevada, great care was used when creating a uniform appearance that was distinctive and unlike any other law enforcement agency in Nevada.

During the past four decades in partnership with fabric manufacturers Raeford Mills and uniform manufacturers such as Fechheimer, Leventhal, I. Spiewak, Hallmark Emblems and Sun Badge Co., their current uniform designs were established and natural fabrics chosen for shirts and trousers. Although shirt and trouser fabrics have evolved over the past 40 years as the department has slightly moved to use manmade fabrics, trousers including traffic officer breeches remain 100 percent wool.
"Our current Class A uniform for summer attire consists of 75 percent polyester and 25 percent wool with the option of long-sleeve or short-sleeve summer silver tan shirts," explains Officer Jesse Roybal, with the LVMPD Office of Public Information. "Our winter shirts are a 55 percent polyester and 45 percent wool metro green long-sleeve shirt. Our Motor Officers also wear a 100 percent worsted wool motor breech in either a 19½ – 20 oz. for winter and 14 – 14½ oz. for summer."

As worn today, the LVMPD uniforms have evolved as has the scope of its missions. "We may be most visible in downtown Las Vegas or on the Las Vegas Strip but you will find Las Vegas Metropolitan Police Department officers in the mountains, high deserts, at the lakes and in small towns throughout Nevada. Our officers are provided custom-made uniforms that have been thoroughly field tested and designed for the various jobs they face now and in the future," Roybal says.

The department badge is also unique as it evolved from the original five-pointed star badge worn by Clark County Sheriff officers to a modified seven-pointed star badge in 1973 and was later modernized to the current design. The badge is an integral part of the LVMPD uniform, and identity was recognized nearly 25 years ago when Nevada's state legislature made it unlawful to wear a seven-pointed star by any other public safety organization official or unofficial, including casino or contract security officers, within Clark County.

Their Class A uniform is custom made for the department. Their 100 percent worsted wool trousers and breeches are custom dyed silver tan, constructed with a two-way stretch Freedom Fit II waistband for a more comfortable and better fit, and allow for alterations to be made in the outlet and inseam. Their trousers and breeches adorn a 1½ inch elastique 55/45 Dacron polyester/worsted wool braid custom dyed in military brown. The braid straddles the side seam and runs over the top of the front pocket from the waistband seam down both sides.

"Our 75 percent polyester/25 percent wool short-sleeve and long-sleeve summer shirts are custom dyed silver tan, have a coat-style front and semi-dress collar. Our 55 percent polyester/45 percent winter long-sleeve shirts are custom dyed metro green and have a coat-style front and semi-dress collar. Summer and winter shorts adorn two department emblem shoulder patches affixed to each sleeve and centered with reference to the epaulets," Roybal says.

Officers are supported by a full uniform shop with professional sewing workers and tailors assigned to custom fit uniforms and two supply technicians on hand to manage the entire warehouse of department uniforms.

The Las Vegas desert experiences extreme heat during the summer months and cold temperatures during the winter. The 100 percent wool trousers are breathable and help absorb moisture during the summer and provide warmth during the winter. The summer tan shirts are offered in both short sleeve and long sleeve to keep officers cool and protected from the sun when necessary.

LVMPD's Class A uniforms are custom made right down to the special dying of the fabric. A wide range of officers participate in the wear-testing process. Each officer is required to complete an evaluation form describing what he or she liked or did not like about the garment; as well as provide feedback on what he or she would like to see in the future. All results then go to the uniform committee for change consideration. Once the uniform committee votes on the changes they are then presented to executive staff for final approval.

"Test wear processes are ongoing as we continually look for fabrics, performance enhancements and new technologies to improve our uniform program, officer safety and professional appearance. Officers are allocated a uniform allowance each year to cover the expense of dry cleaning. The department does offer the officers a dry-cleaning service option, or they may take to their neighborhood dry cleaners," says Roybal.

"LVMPD prides itself on the fact that the youngest, newest officer wears the same uniform as the sheriff. Rank is distinguished by sergeant stripes on the sleeves and with gold collar rank insignia, single bars for lieutenant, two bars for captain, one star for deputy chiefs, two stars for assistant sheriffs, three stars for the under-sheriff and four stars for the sheriff. In addition, service stripes are sewn on the sleeves with each stripe representing four years of service."

He continues, "LVMPD is committed to our mission to protect the community through prevention, partnership and professional service. That commitment and dedication extends to the millions of visitors that Las Vegas plays host to each year. Each officer is an ambassador to the Las Vegas community, and it is important that each officer is distinctive to all citizens and visitors. It is the basis for our department's vision to be the safest community in America."
Sticking with What Works

Uniforms at the Daytona Beach Police Department consist of dark navy blue pants with a blue stripe down the side, are made of polyester and have remained the same for the past 17 and a half years. The shirts are gray with a button down collar, pockets on each side and epaulets.

"The color of our shirts is called 'Daytona Gray' because sometimes they are very hard to match," explains Officer Mike Oteri with the Daytona Beach Police Department Training Section. That color is basically a medium hue. It hasn't changed for the department in many, many years.

"We have a summer-style uniform which was introduced at one point, including shorts and other summer items as we are in a tropical climate. But the department went back to the original polyester once again, including the long pants."

One of the most important functions of their uniforms is being able to identify that person wearing it as a police officer. With all the possible liability issues involved today, someone who approaches a police officer wants to know that they are engaging a city government employee, one that is a law enforcement officer, according to Oteri.

Argo Uniforms of South Florida is currently the vendor handling their uniform purchases, and the uniform manufacturer is Elbeco. Fabrics used in construction of the uniforms are 100 percent polyester. Officers have the option of taking their uniforms to a dry cleaner the department contracts with, or they can launder the uniforms themselves.

In addition to the standard uniform, they have a bicycle uniform with more of a nylon-based material in the shorts, shirts or pants. Those items are custom-made by Blauer. The department also has a canine unit with a specialty uniform as well and a tactical outfit with shirt and pants. Shoes worn by those on the force must be black, be polishable and can either be a shoe or a boot in design.

"What is worn on the bikes depends upon the time of the year," adds Oteri. "Because this is a tropical climate, shorts are fine much of the year. However for the winter months our bicycle officers are usually in longer pants. We do not enforce on the beach itself, only the hardtop areas of the city."

Oteri continues, "Polyester is used in the uniform for its durability. We tried a cotton shirt in the past for certain events, and they just did not hold up. The Daytona Police Department pays less for these articles of clothing, but we are also buying a lot more of them.

"Our uniforms are also so specialized that they are hard to imitate or impersonate, say in a Halloween costume. This is not to say that the design is off the wall, but getting the patches, collar insignias with the Daytona initials on it in addition to the badge, nameplate and metal buttons going on each side of the shirt all would take a lot of effort to put together and duplicate for this uniform."

Each community in the northern Florida region has its own distinctive look. "There's really no mistaking ours. They last about three to five years, as long as they don't get ripped or stained. For us it has made sense to stick with what works the best."