Share This
From Donuts to Deutschland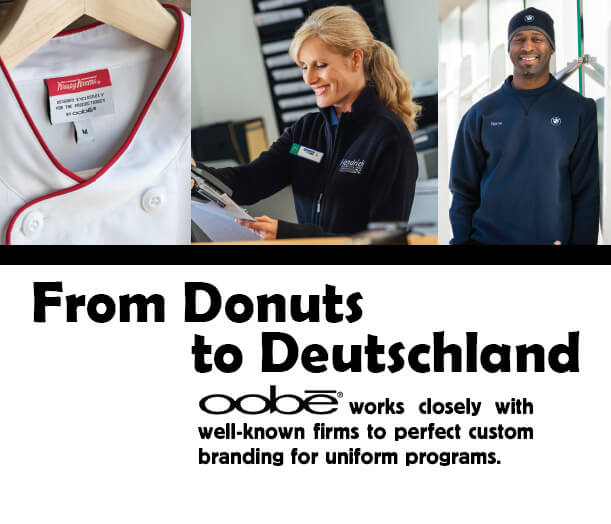 By Peter Hildebrandt
What do a premier German car company, a popular southern pastry maker and a growing auto dealership firm have in common? All are now clients of Oobe, Inc., a custom uniform designer in Greenville, South Carolina. Oobe has worked hard the past 20 years to remain a catalyst for firms needing their own custom uniform fit. Starting with custom t-shirts for businesses, Oobe entrenched itself in the uniform market, particularly the custom-branded apparel niche. Last year it hooked up with three prominent area clients: Hendrick Automotive, Krispy Kreme Donuts and BMW.

With Krispy Kreme, the objectives presented to Oobe dealt with issues of branding and presentation. Its employees typically wear polos and tee shirts. But the donut maker was also trying to stick with the theme of its heritage. The bakery setting in shops let customers feel like they are witnessing everything being made on the spot. September 2014 will see the roll out of the new line of uniforms for Krispy Kreme. Uniforms for bakery workers at the shops will feature chef coats and other components more in line with their brand of business. Krispy Kreme's visual presentation drove the branding initiative for Oobe, something that proved to be a snap because Oobe has a fashion design team in house.
Elizabeth Ramos, Oobe creative design director, explains that Krispy Kreme is very careful about how it presents its look and feel. Though now there are custom-branded labels in chief's coats and tags on the garments, the pastry-maker never really had a singular uniform program it could expand to all of its stores.
"It's been up to each individual location when it came to the uniforms," adds Ramos. "Challenges came in consolidating, putting everybody together and giving a concise, cohesive look to their shops."
Oobe even held a fashion show with Krispy Kreme in order to launch the entire new line as well as to showcase the fashions it has used all the way back to the 1950s. The Krispy Kreme fashion show involved with their new uniform roll out was a fun way to promote the look, according to Ramos. The event is not meant to be a brainstorming effort for designs but as a way to showcase the new line.
BMW manufactures automobiles in nearby Greer, S.C. The uniforms Oobe assembled for BMW are for everyone from those working on the line or in the paint shop to those in the offices. For BMW, Oobe supplies everything from 100 percent cotton dress shirts to apparel designed for different jobs in the plant.
The main objective was to present a consistent look and feel. The last time BMW had a uniform update was almost two decades ago. Simple issues such as fading over time had come into play. Since the company has a very good retention rate for its employees, if a particular employee had worked for BMW for 18 years, they may have had a polo shirt which they'd worn for literally 18 years as well.
"If a longtime worker is standing next to someone newly-hired, you really need to have it look like their uniforms are the same," explains Ramos. "One of the objectives we worked on with them was being sure that there was no uniform fading and being sure that items such as polo shirts presented the same exact standard in color. When you look out across the floor at the plant, you would see the same consistent color in workers."
The new designs for BMW employees are being produced and distributed at this time. The update on the BMW line allowed Oobe to work on obtaining the best fabric technology for these newer work clothes.
Oobe starts with a client by discussing the customization of items and creating designs. Once the needs for the business are established, then the actual manufacturing is turned over to operations overseas.
After starting out largely as an athletic t-shirt company 20 years ago, Oobe has shifted focus to the strategic branding and development of uniforms and uniform concepts. "The past 20 years we've worked hard in conjunction with a wide variety of clients to make this a reality," adds Ramos. "What we'd most like to point out is how we custom tailor a uniform line to most fit a client's needs."
She continues, "For example the Krispy Kreme chef coats are white, typically because they deal with a lot of flour; they wanted to make sure that any spilled flour from the work didn't show up on the uniforms. They wanted the workers to look nice even in the middle of a big donut run. That is one little detail that is actually pretty important, and we're glad we are able to accommodate them."
Ramos' job blends demands from marketing, design and PR into a single position, which is a strong role in a company wide open to new concepts and doing everything possible to help clients make the leap from idea to reality. "I like helping people understand who we are and what we do."
Tyler Ulmer is the program coordinator on the Krispy Kreme account. Oobe caught wind of Krispy Kreme's plans to roll out a new uniform program in September 2013 at the last minute. In November, Oobe impressed the donut maker with their ideas and won the contract over two other vendors.
"We made some phone calls in order to get a feeling for what they were looking for, created samples of actual apparel items and came up with a uniform theme centered around their 'donut theater,' the Donut Theater Collection based on a performance-hall event. The Donut Theater creates a unique experience for the customer. The uniforms we created are performance based."
Earlier uniforms were organized somewhat chaotically. Not all the stores had uniforms from the same vendors, and ordering was done in various places. Oobe constructed a much more streamlined, organized uniform program, handling everything from design to procurement. Uniforms are distributed to both the retail stores and to individual employees.
A website platform is being built to service both the retail environment and the delivery route division that sells the donuts in venues such as grocery stores or gas stations. Oobe is also offering a collection of its "Mill Collection," Krispy Kreme-branded corporate apparel such as dress shirts and jackets. Employees have access to the website in case they would like to order certain items.
Ulmer says, "We brought together IT people, creative people, fashion designers and operations individuals such as myself so we could answer all the questions at Krispy Kreme. We were awarded the contract just before Christmas. Since then, we've been going through all of our development and collaborative processes, finalizing product designs and style selections with Krispy Kreme based exactly on their performance needs and wants."
The Krispy Kreme line is in production now, and the website and marketing materials are in development. Ulmer says, "The plan is to be in place by Pirate Day, mid-September. Wear testing is being done as well. The new uniforms feature more performance fabrics as opposed to cotton blends which will stay crisp, cleaner and are a lot easier for employees to care for."
Some of the colors being worn will be different from past programs. Black bottoms with red and green tops will be the new, updated appearance. Managers will be wearing ties, and there will be a new design on the paper hats worn. An air force-style hat constructed from performance fabric will replace the paper hats. Everything harkens back to the firm's roots but in a modern fresh way. Most of the new fabrics are polyester ones developed to be moisture wicking and quick drying.
"They don't shrink or wrinkle, due to the nature of the fabric itself," adds Ulmer. "An employee just starting today will be wearing a uniform that looks just like the uniform of one who's been wearing it for a year; it's a clean look. This is easy-care fabric."
BMW had the same uniforms and supplier for the past 20 years. They were interested in keeping the same general look and also bringing in hi-tech fabrics, performance fabrics and specialized features from factories throughout the world that other uniform suppliers might not be able to offer.
"From the outside looking in, there is very little change physically in the uniforms," explains Marc Kuiper, BMW uniform program director with Oobe. "Those on the production line wanted to upgrade to a very consistent dark navy product yet still be able to blend it with existing pieces. It's a basic color palette that we were able to work with, and this found us working on the uniform as more than simply something to wear as much as a uniform with representative colors."
Kuiper continues, "Our focus in taking on their program last year was on customer service as a local provider. In addition to supplying uniforms locally, we set up a uniform store in the plant where they could try on uniforms at the on-site restaurant and then come back and place their orders. Having the store also raises customer service to a superior level, while at the same time supplying a first-rate product."
The shoe component was actually part of the process. Oobe was able to partner with the existing shoe supplier, with whom BMW was very happy. The firm made requirements with shoes a seamless part of the process. "Our focus isn't necessarily on 'more is better' but on partnering on brands that value their brand and fabrics and allowing employees to feel better about what they are wearing while at same time increasing productivity," Kuiper says.
Bryan Milling, senior director of programs with Oobe, explains, "Hendrick Automotive Group is very professional and team-oriented. With uniforms for an automotive company, you want to have something that is easily recognized; they wanted that identification with class and professionalism. That was a good fit for Oobe. Operating in a professional environment, they lacked that uniform consistency and decided to move toward that."
Oobe doesn't describe its relationship with Hendrick as a uniform program but a custom-branded apparel program. Challenges included geography and the diversity of manufacturers which they represent – from Chevrolet, Fiat, or BMW to many other brands. Hendrick wanted a class of professionalism combined with ease of fabric usage.
"This is a custom-branded collection in which everything is unique; we don't have any stock items in this collection either," Milling says. "For example all the shirts have a Hendricks collection label and are high end as well as very custom. They really wanted the apparel to drive their brand. As with BMW, we've created a custom website so that employees can go online and view the collection, ordering pieces from the collection critical to their dealership. We are currently rolling things out to 83 dealerships across the country as well as traveling to all the locations and assisting with the fitting and ordering for the collection."
Oobe prides itself on the custom aspect of all its client programs There is no shelf full of shirts waiting for a company label to be sewn on. Instead, Oobe created exactly what the customer wants and is backing it up with customer service and program management.
"Krispy Kreme – along with the other two companies – was a great fit for our company, based on both company's cultures," adds Ulmer.
Oobe Inc.
201 Riverplace, Suite 301
Greenville, SC 29601
800-632-OOBE
www.oobe.com