Share This
Aberdeen P.D. by Red the Uniform Tailor
By Peter Hildebrandt
Police officers throughout the country are often their community's unsung heroes, putting their lives on the line daily to insure public safety. If anything can be done to make officers' jobs go smoother and safer, both the departments and the citizens depending on them need look no further than their uniforms. The first thing seen as an officer steps from his car is his outfit. That can instill confidence and enthusiasm, or it can convey something else entirely. Aberdeen, Md., has been able to find the right look, right clothes and right materials as well as put to rest any doubts that they are ready and prepared for every aspect of their job.
The Aberdeen Police Department, along with other departments, buys a custom made-to-measure uniform from Red the Uniform Tailor. The uniforms are 55/45 poly/wool as opposed to less expensive blends, according to Harvey Klein, Red the Uniform Tailor president.
"Their decisions are based on image," explains Klein. "It's extremely important to this town and many of our other uniform customers as well. It's about the image and the quality of what they are buying. The uniforms that they get are American made, which is very important to this particular account. The other issue is that they spend their money very carefully."
Klein continues, "The uniforms that they buy from us have extreme longevity. An officer who gets a uniform is physically measured by one of our uniform consultants. The orders are then placed into our system, digitized into our CAD system and cut for each individual's specifications. This is done not just for each person's configurations but for all particular sizes involved."
The uniform is made to fit properly, which in turn adds significantly to the life of the product. In the end it's not the expense of the uniform as much as how much it costs for someone to wear the uniform, according to Klein. The uniforms last significantly longer than other uniforms, so in the long run they become a good value.
"It's not uncommon for me to see a shirt that's eight, nine or ten years old," adds Klein. "This is as opposed to getting a new shirt every so many months, and this works out for our customers in the long run."
Klein points out that one of the biggest challenges at Red the Uniform Tailor comes from simply maintaining operations in a U.S.-based manner. Getting fabrics and trims is an ever-changing landscape. They are faced with all sorts of demands on the production side of operations as well. It is difficult to get repair work done on sewing machines or find parts. At times it seems easier to simply purchase a new machine.
"There is no one left to fix these machines," says Klein. "Our fabrics come from various sources; it could be Mexico or Asia, thus we are dealing with long lead times in getting the core fabric in. Also, how many 22-year-olds want to go work in a sewing factory?"
Labor is always a challenge for RtUT. For a department such as Aberdeen, these issues are transparent; they don't know about them and don't want to know about them. They have their own jobs to do. Because the uniforms take four to six weeks to make, there is no instant gratification with the construction of this made-to-measure product, according to Klein.
The North-American Association of Uniform Manufacturers and Distributors named the Aberdeen Police Department among its Best Dressed Public Safety Award winners in spring of 2013. Both the department and the supplier are named for each award, and Red the Uniform Tailor also won two other awards last year. Of the six categories based on department size and type, RtUT took home honors in half of them.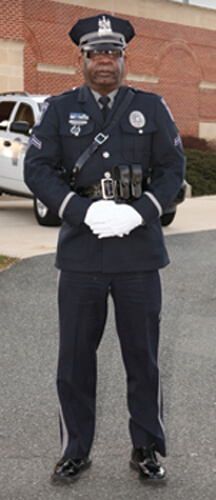 Klein comments on the honor the awards bring, saying, "The chief in Aberdeen is really on the ball. He pays attention to details, and it really is about the image for them. He came personally to accept the award, and I went down to his town to present their award there."
Klein says, "When I presented the award to the mayor, I added, 'Just in case anyone cares, this uniform product was made in the USA.' The audience actually applauded. We make everything we sell right here in New Jersey or in Pennsylvania."
The other big advantage for the firm is that size doesn't matter; if an individual is especially big, short, tall or wide it doesn't matter. Everything is made to order. Police officers come in all different sizes and there are women on the force as well. Everyone needs to look their best, according to Klein.
This New Jersey manufacturer has been in business for 37 years now, as of Feb. 1, 2014. When the gaming industry came to Atlantic City, it first started supplying uniforms for the security personnel in the casinos, which then grew into supplying uniforms for other employees working in the industry, such as those in restaurants and bars.
It's grown from five employees to 120 in those years. Now it also has four locations, including Lakewood, N.J.; Carrolton, Texas; Marietta, Ga.; and Milwaukee, Wisc. These other facilities opened around 2003. New Jersey is the largest facility, with the Milwaukee store having the most amount of retail space followed closely by the Carrolton location.
"We're about customer service, and it's very hard to serve a customer who is far away," adds Klein. "With customers in different regions of the country, the next thing you know you've got to service them and you need a facility. Here orders can be done and people can be fitted. Our firm evolved that way; we need to take advantage of opportunities as they come along."
Lately they've made use of online stores as part of their business. With all the new technology available, Klein feels that the only good technology is the kind that can be put to use. Fabrics are purchased for strength, wrinkle-resistance and fading; but perhaps the main worry is the reliability of the fabric supplier. Thus, fabrics are tested on a regular basis by the staff. Bulletproof vests are sourced from a supplier.
"Back orders can be a real challenge," Klein says. "We have had times when we were waiting for payment, but that payment was waiting on a few items we were waiting for to complete the order." The result can be a frustrating process of running in circles.
"The key concept or core belief for us is that we are a family business – three families working together, paying attention and taking care of our customers. We are in a line of work where the items we produce take time to manufacture, yet the world today with online ordering and service is expecting products delivered in a matter of hours – as soon as possible. We work hard to keep our customers satisfied but instant gratification is not part of what we are able to do."
Instead, RtUT focuses on taking a big-picture approach to caring for customers and employees alike. Employees get benefits, a 401K and paid holidays. Klein says there are opportunities for upward promotions into management if that's what the individual is seeking and proves a talent for.
The Aberdeen Police Department has had basically the same uniform for the past 25 to 30 years, according to Chief Henry Trabert. Certain details were altered to get them to a point where the uniforms had a very professional look to them. "Each uniform is fitted to the person who is going to wear it," explains Trabert. "Company representatives actually come out here, take measurements and fit the uniforms to those on our staff. Items measured for include pants, jackets and shirts so that every officer can look their very best when they are on duty."
Trabert points out that it is the department's belief that an officer has only one chance to make a first impression. When an officer arrives on the scene, whether it's a crime committed or a traffic stop with victims, the officer must impart authority and professionalism. That happens most when the officer is well dressed. This instills confidence in all those at the scene, including victims or suspects, that this officer is able to handle anything transpiring.
"When the officer looks the part and has that confidence, it frequently sets the stage for how things will turn out," explains Trabert. "People will be thinking, 'This person looks like they are prepared to do their job.' In some instances it may even change the outcome because the suspect thinks the officer clearly knows what they are doing." Trabert acknowledges that maintaining that command for respect is based on the officer's actions and handling of the situation.
"In any case we are giving [the officers] the opportunity with the best equipment, cars, updated technology and uniforms to make a difference and let the officer do his job the best that he can. Our officers also do a lot of community policing and are out and about quite a bit. A nice uniform shows a sense of pride both for himself and for the department for which he serves."
Aberdeen submitted its application to the NAUMD for the appropriate size category for their force. A vote is taken and a winner selected each year, according to Trabert. "This award is good for us, for our people who take pride in themselves. They know that they are appreciated by the public and this year, not only that but it is also award-winning. First impressions change the tone.
"We found Red the Uniform Tailor through word of mouth. We asked different places where the uniforms were especially sharp, and their name kept popping up as well as that some of those same departments had won awards. The material is more expensive but in the long run it lasts longer so you do end up saving money with the higher quality material. As I look around, there are more Maryland departments now choosing him as well. We are thrilled to have this part of what we do as police officers covered. Looking our best really helps us to do our best, always."