Share This
Texas Two-Step: Sterling's Public Safety Swings Open A Second Store
They say Texas is big. For a taste, just ask Sterling Thompson what it takes to commute between the two locations of his uniform business.
"It's 700 miles between the two stores. El Paso is on the outskirts of Texas and San Antonio is in the center."
Sterling's Public Safety in San Antonio used to be owned by Don Skagg, who operated many uniform stores under the Skagg's name. When Thompson bought the store in 1997, he changed the name.
The El Paso location was just purchased in April 2012. The previous owner of this police and military store ran into trouble with the law himself. He was arrested for smuggling bullets and tactical equipment into Mexico. Thompson purchased the business and changed the name to Premier Uniform & Tactical. Thompson and the former owner knew each other.
"Originally I thought I would go to El Paso and see if I could help his customers down there. But once we started meeting, it was clear it was better if we just take over his business and take care of his customers that way," explains Thompson.
The two retail establishments could not be more different, at least for now.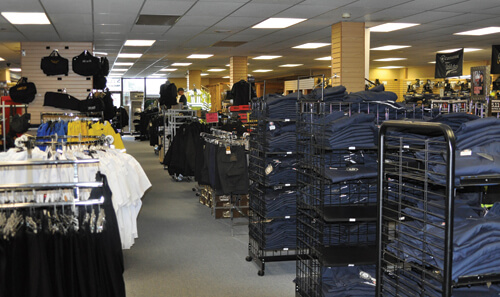 Sterling's Public Safety occupies a large, free-standing building. The entire structure spans 65,000 square feet. Vernon Thompson, Sterling's father, takes up a large percentage of the space running Premier Emblem, a large distributor to the trade.
"It's a great location," offers the younger Thompson. "We have a big sign seen from both sides of the I-10 highway. We have three showrooms, two of which we don't even use at the moment. The main showroom is 14,000 square feet. Having that much space allows us to have a nice display of new products."
Because the space is so large, Sterling's Public Safety keeps the showroom well stocked. The floor features boots from a dozen manufacturers, for example. Blue goods in general have large size runs, featuring a range of garments including a variety of polyester, poly/wools and poly/cotton blends. The store also features many other soft goods and accessories, including handcuffs, flares and more.
On the other hand, the El Paso store, Premier Uniforms & Tactical, is in a shopping center. The space is four suites that are strung together into one.
"The previous owner used no computer system; everything was handwritten. Inventory was a nightmare when we took over," says Thompson. "The place was just packed and in disarray. So we have been cleaning it up and clearing it out. We will move the store, most likely before the end of the year."
When the operation moves, Thompson plans to model the store after what the San Antonio store is like. He is currently looking for at least 12,000 square feet of space in El Paso.
As far as the market goes, Sterling's Public Safety sells predominantly law enforcement. With the addition now of Premier Uniforms & Tactical, the company sees more and more tactical and military sales.
"What separates us from many other dealers throughout the U.S. is that so much of our business is based on cash allowances. Seventy percent of the business is cash allowance. This has meant that margins are good, since we don't face the same competition," Thompson says.
The El Paso store is on track to do several million dollars' worth of business a year, and what is interesting is how much of the business is from across the border in Mexico. Uniforms can go across the border freely; items that can be used as a weapon require permission from the State Department to sell there.
"We are selling law enforcement goods to them. Some of the municipalities there wear such bland clothing, perhaps only one patch. We wonder how the officers are even identified. This is very different from programs here in the United States," Thompson says.
They are good orders though, reports Thompson. A small order going to the Federal Police in Mexico might be 50 pieces. "They are okay with us delivering to them as the manufacturer makes it, so we are happy to send it."
When Thompson talks about the business, he speaks from experience. He grew up in the business. He was born in Dallas and remembers going to the factory when he was six years old. Back then, the family business was called Dallas Cap & Emblem. It handled a lot of embroidered goods for the military. Thompson went to college for a while at Richland College in Dallas and says it wasn't very challenging.
"I sat down with my father and said 'Let's do this together.' He was little disappointed at first. He wanted me to finish college, but it worked out well. That was the early '90s. 'If you love what you do, you never work a day in your life.' That would describe my father. There is a work ethic difference between the generations," says Thompson with a laugh. "If I work 110 percent, my father works 400 percent."
Christina Thompson, Sterling's wife, also works at the store, and the couple has six children ranging from 5 to 20 years in age as well! In addition to the two of them, the San Antonio location has 16 employees. In El Paso, there are 11 employees. Thompson says there is a high turnover rate, having to replace two or three employees per year. There are also key employees who have been with Sterling's Public Safety for more than five years.
As far as marketing the business, there was a "grand re-opening" for Premier Uniform & Tactical. It does place ads on the radio and some newspapers. For the El Paso store, there are also some military news advertising opportunities.
"We quickly put up a new website for Premier Uniform & Tactical through UniformMarket, where we have had a site for Sterling's for several years. We had a website on our own before that, but UniformMarket provides something much better for our customers and it is far easier for us to maintain," he says.
Thompson says his sales philosophy is simple. "We used to think we had to be the cheapest. That was not working out for our needs or the customers'. So, we focus on customer service over price. I turn down a lot of business because I don't get into price wars or work on a lower margin, where I know I won't be able to provide top service."
Thompson explains that they were struggling to reach a higher sales volume in San Antonio, but it was taking away from the ability to provide service. It just was not feasible, he says, to try to be so competitive and still please the customer with service in every way.
"Our sales narrowed, but our relationships improved. It was more enjoyable all around. Customers know they can generally get something from the store, and if they can't, we'll order it for them and have it two or three days," says Thompson. "We have suffered during this economy, where state or city budget cutbacks have affected business. It is getting closer back to where it was prior to 2008. There is always going to be crime though, so there will always be law enforcement and they will always need uniforms."
Sterling's Public Safety has another item that Thompson believes makes it unique. It is importing goods itself for some of the products it sells.
"We make a lot of our own uniforms and merchandise such as gloves, ties and jackets. This has given us an edge over others. The downfall is we have to buy a large amount of inventory, but this gives us a lower price than getting goods from buying from manufacturers. We call it 'Sterling's' and present it as a house brand."
Even with the solid track record at Sterling's Public Safety, the company took a risk and pushed forward this year opening Premier Uniforms & Tactical. And even though Thompson's commute between retail locations may be a full day's drive, there is no looking back, only plans for growth.
Sterling's Public Safety Inc.
2111 West Ave.
San Antonio, TX 78201
Phone: (210) 523-0976
www.sterlingspublicsafety.com
Premier Uniform & Tactical Gear
6601 Montana Ave. Suites A,B,C & D
El Paso, TX 79925
Phone: 915-771-6601
www.premieruniformsandtactical.com