Share This
South Carolina Highway Patrol Means Business… & so does its Uniforms
By Peter Hildebrandt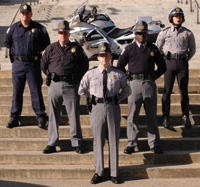 South Carolina is a state of contrasts and interesting juxtapositions. Though she led her sister states away from the Union some 148 years ago, South Carolina is known for its Southern charm and charisma. Charleston, the city where the first shot of the Civil War was fired, consistently shows up in national surveys as a top city for politeness of its residents.
Likewise, when travelers zip across this Deep South state, they may miss much of the scenic and natural diversity contained within its borders. World class beaches shimmer a few hours away from the foothills of the Blue Ridge Mountains. The Congaree Swamp National Park contains some of the nation's last remaining stands of old-growth forest in the Southeast. And despite nearby Georgia's claim to fame, the Palmetto State actually grows more peaches than its southern neighbor as well as all the other states with the exception of California.
The state also has made a name for itself with its uniforms for its South Carolina Highway Patrol. Each of the 1,010 state highway patrol troopers wear uniforms any time they are on duty, according to Lieutenant Scott Watford, head of its Research and Development unit. "All of our uniforms and equipment are researched, designed, ordered, stocked and issued from our supply facility in Columbia, SC. We have several different types of uniforms, but the vast majority of the troopers wear the dress, or Class A, uniform. Our dress uniforms consist of either a summer or winter uniform; leather belt, holster, and equipment; black oxford shoes; black socks; and a straw campaign hat."
The Class A uniform consists of dress trousers and both short-sleeve and long-sleeve dress shirts. Navy ties are worn with the long-sleeve uniforms. The dress uniforms are currently manufactured by Fechheimer Uniforms under its Flying Cross label. Raeford fabric is used in a 55 wool/45 polyester blend. Double-needle stitched throughout, they include several features per SCHP specifications. Shirts have Lintrak military creases on the front, rear and sleeves. Trousers have Lintrak creases in the leg. The shirt pockets are tacked down for a neat appearance. SCHP dress uniforms are grey and trimmed with navy blue. The trousers are designed to accommodate the officers' gun belts through the belt loops.
The Class B uniform is a stock, navy Propper BDU uniform consisting of a long-sleeve shirt, short-sleeve shirt and trousers. These uniforms are constructed of rip-stop material and are made from a 65/35 blend to reduce color fading. Accessories include a nylon belt, holster, and equipment, black police boots, and a SCHP baseball cap. A motorcycle uniform version is for motor troopers.
All troopers are issued body armor and are required to wear it. They are also issued a Blauer Class 2 High-Visibility Traffic Vest. The vest is fluorescent yellow with Scotchlite reflective stripes. Their Blauer rain suits are also florescent yellow with reflective stripes.
Fechheimer/Flying Cross has been associated with the South Carolina Highway Patrol for many decades. In 1997, the SCHP won the Best-Dressed Uniform Award from the North-American Association of Uniform Manufacturers and Distributors. The SCHP started wearing uniforms since the creation of this department in 1935.
"We work with South Carolina and other agencies to meet their specifications, helping to design the uniform with their input so, when the bid is issued, the specifications will contain the right design, the right fabric and the right fit," says Fred Heldman, senior vice president with Fechheimer Brothers Co. "South Carolina Highway Patrol sought out fabric that would perform, provide comfort and provide a professional appearance. SCHP chose to wear wool-blended fabrics. Wool has a history of providing comfort and performance."
Because South Carolina's climate is fairly consistent throughout the year, the only variability in the Class A comes in the use of a short-sleeve shirt or a long-sleeve one. Trousers in a single weight are used year round.
"We're in contact with the agency to try to forecast annual demand so that we can plan accordingly and deliver their uniforms when they need them," says Heldman. "We also work through a distributor, Uniforms by John, in Florence, SC, to handle any issues locally.We consider the SCHP to be a very prestigious customer. The law enforcement community is close knit, and if we're able to satisfy a large, high-profile customer like them, I think when they're asked they will refer customers to Fechheimer and our distributor so we'll end up with even more satisfied customers."
John Hoover, owner of Uniforms by John, has been providing the dress uniforms for the SCHP for more than 20 years. The company itself opened in 1968. At first it had a white goods store dealing in medical uniforms. Years ago, Hoover sat down with both Earl Lender and Mel Boatner, Lieutenant and sales rep respectively, and they'd hand write their specs.
"It went so far in those days that they'd go and talk with all the design people, going through all the different uniforms. Lt. Lender would hand write all the specs," says Hoover. "They're the same specs used today, except now everything's done by computer."
Hoover feels that, despite the stress in those early years just starting out, his company was able to provide professionalism at a level beyond anyone else in law enforcement. "South Carolina Highway Patrol is by far superior in their uniform as shown by the way they dress," adds Hoover, who is the main dealer for the state of South Carolina.
Hoover says, "Right now a problem in our industry is that you have a lot of people trying to wear Class B uniforms when they're working. I recently had one of my contacts tell me after he started wearing such uniforms that he also started having problems with fights, whereas with the dress uniforms this was never an issue. I told the chief, When your officers pull someone over while dressed in a tie, you're in his office and this is all business.' Appearance and performance matter."
Class B uniforms are clearly more comfortable. But, as Hoover points out, if anyone is going to call on a customer in shorts and a polo shirt, if he were in business he wouldn't be making very many sales. "To perform your best you have to look your best; it's as simple as that," he says.
After he sold the white goods store, Hoover involved himself with the law enforcement uniform store in Florence. Fechheimer asked if he would help out with its Charleston store. He bought it, and then when some problems arose at its Augusta, Ga., store, Hoover purchased it as well.
"Now I'm traveling about 75,000 miles per year," says Hoover. "As owner, I see every one of my customers. They're chiefly in South Carolina and the lower part of Georgia."
Hoover points out that the Charleston City Fire Department has just been placed in new fire wear made by Fechheimer. "The fire wear, made from materials that don't melt, is becoming more popular. This is a cotton material, and Flying Cross has come out with something a bit more dressy, which everyone is jumping all over. They've taken a step above the others in the industry and this is one of the ways they do it, especially in light of the tragedy last year with the nine firemen who died in a furniture store fire."
He recently learned that the SCHP has awarded all its dress blouse and coats to Uniforms by John, through Fechheimer. All the specs were met and their bid was approved.
Hoover says, "The professional image the highway patrolmen are projecting probably makes them the most respected department among the state's law enforcement professionals. We have our own inventory tracking program, but the SCHP also wrote its own program in that area. It is actually very impressive to see. They're probably two steps ahead of every other agency you might deal with. They're serious about their uniform program and it shows."
All SC troopers' uniforms contain the SCHP shoulder patch on both shoulders. This patch has been in use in its current configuration since 1990. Troopers wear one badge on their breast and one nameplate over the opposite side. A badge is also worn on the campaign hat. The badges are made by V.H. Blackinton Badge Co.
SCHP troopers wear either the campaign hat, baseball cap or motorcycle helmet. This is dependant on the type of uniform worn. Their duty jacket is a Spiewak Ike-length duty jacket in navy blue. They wear black gloves as well as navy Blauer sweaters.
"All of our uniforms and other equipment are constantly evaluated by our office to ensure that we provide our troopers with quality uniform equipment that meets their needs," says Watford. "We have a staff that works in conjunction with the troopers to constantly evaluate all of our equipment including jackets, shoes, traffic vests, uniforms, etc."
The designs and components are chosen by a committee of troopers who work in tandem with the supply staff. Each piece of equipment is bid separately; shoes, jackets, badges, uniforms and leather equipment all are currently provided by different vendors. Troopers wear, test and evaluate all equipment prior to placing it into service, according to Watford.
"We also solicit their input in every part of the process. The program is administered by the Research and Development unit of the South Carolina Highway Patrol," he says. "We wear long-sleeve uniforms in the winter and fall. We wear short-sleeve uniforms in the spring and summer. The fabric weight is the same for all uniforms year round. Inventory is ordered, received, stored, and issued from our supply warehouse. We have a computer system that tracks the quantity and orders for all of our equipment. We have several thousand shirts and trousers in stock at any time."
New troopers are issued six pair of trousers, six short-sleeve shirts, six long-sleeve shirts, two campaign hats, two pair of shoes, and all the necessary remaining equipment. Subsequent orders of uniforms and equipment are made as needed.
"We fit our new troopers and other troopers at our warehouse facility. All orders for uniforms are made to our warehouse electronically, pulled and then shipped to the troop office," says Watford. "Alterations and dry cleaning are handled by the trooper with reimbursement from the department. Our uniform presents a professional image for the troopers. It is distinctive and impressive and truly sets us apart from other agencies. Most people would instantly recognize a trooper by their uniform and SCHP employees take great pride in those uniforms. Troopers have also been very satisfied with the fit, comfort and use of our uniforms. We are pleased with the quality and price of our current uniforms, and finally I am most pleased with the quality and professional appearance our uniforms offer."
Above story first appeared in MADE TO MEASURE Magazine, Fall & Winter 2008 issue. All rights reserved. Photos appear by special permission.
Halper Publishing Company
633 Skokie Blvd, #490
Northbrook, IL 60062
(877) 415-3300
Fax (224) 406-8850
frontdesk@madetomeasuremag.com