Share This
Food Lion Goes with Uniforms that Aren't
By Peter Hildebrandt
W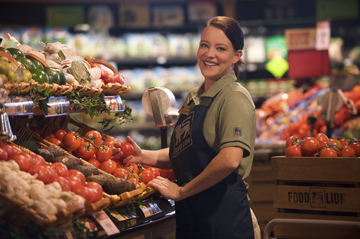 alk into any of the more than 1,100 Food Lion stores (or the more than 200 stores under the Food Lion banner) and it's clear the goal is to get customers what they want and need from a grocery store in as short a time as possible. Food Lion has long prided itself on being the grocery store without a lot of the extra frills of many of the other grocers out there.
This is a place where it's easy to find help, easy to find what you are looking for and typically even the day before a big holiday fairly easy to get back out into the parking lot quickly. Customers don't have to run an obstacle course through a phalanx of store greeters, balloon- and ribbon-bedecked florist shops, gift card areas, sushi bars, bakeries, magazine racks or DVD rental areas before finally reaching that container of eggs or milk. That isn't to say none of those abovementioned items are not available in Food Lion, only that they're not necessarily blocking the mainstays that customers go to the supermarket to buy.
This "get down to the nitty-gritty" attitude has even impacted an area of the business perhaps most customers would not necessarily be aware of: the store's employee uniforms. Busy retail associates' work often involves lots of movement, stocking shelves, checking on items for customers and those frequent "cleanups on aisle nine." The last thing employees want to be worrying about in their busy workday is what they are wearing.





Perhaps this figures into the mission of OOBE, the uniform company that recently fulfilled the needs of Food Lion and its sister companies. OOBE started helping Food Lion with its new uniform program in 2009.
Food Lion, a company with some 74,000 associates and headquartered in Salisbury, N.C., decided to contract with OOBE because of the company's design capabilities and the long-term partnership potential. The new associate apparel was added to create a refreshed image of Food Lion for its customers and associates. The new uniforms are extremely important as Food Lion has renewed its focus on delivering a unified brand image to customers in 11 Southeast and Mid-Atlantic states, according to a Food Lion spokesperson. The company has received positive feedback from both customers and associates on the updated uniform.
The Design

A number of years ago, the OOBE business plan changed from being a retail outdoor apparel line to being a uniform company for various industries, particularly food service. The plan was to capitalize on the sourcing, design and business expertise learned through the outdoor apparel market and bring it into the uniform market in a big way. They came up with a different approach, which they applied to the corporate uniforms business.
"We have a different process. It's a bit different than what we feel our competition does," explains Dale Wachtel, OOBE program director for Food Lion. "If we're working on a program, we will go in and visit the stores or offices or locations where the employees are. We'll do surveys and interviews in addition to looking at the different roles and requirements for the uniforms. Then we design the product. Everything for Food Lion is really custom designed and built."
OOBE performed a variety of research prior to launching new uniforms. Visits to several Food Lion grocery stores gave the employees an opportunity to talk about what they liked and didn't like and what they are looking for in their uniform product. Associates provided input on various items, including gender-specific sizing, wrinkle-free fabric and more variety.
That was really the start of the process for OOBE. "We don't just walk in and say, Here are white shirts or navy shirts for you; we'll put your logo on them. Thanks for your business.' It's a partnership that we look at with our uniform company," says Wachtel. "If you came to me right now, saying I've got 10,000 employees that I want to outfit in uniforms; what do you have for me?' I would say, Well, it doesn't exist right now because we haven't yet come together to create it.' It's a process that we go through. We are a smaller company so we have the flexibility to be able to kind of circle the wagons and put everybody on a project like the Food Lion one including designers and others."
The Fabric
Food Lion approached OOBE knowing that, if the current large initiatives to improve its stores' appearance were to be successful, the uniforms would have to follow suit. It was going to update to more performance fabrics, add bolder color stories and enhance the uniform as part of enhancing the Food Lion brand. When the client requested moisture-wicking, stain resistance, stain guard or performance fabric, that's what OOBE built. OOBE incorporated its own custom performance fabrics that give the employee a clean, professional look with very easy care and maintenance. They created silhouettes that remain consistent across each brand. They then used color and branding to set each piece apart and give each brand the personality desired by the client.
All Food Lion associates wear the same new design of polo shirt. The managers wear a different shirt. OOBE also designed the uniforms for Reid's Fine Foods, Bloom, Bottom Dollar and Harvey's Supermarket all Food Lion subsidiaries. All polos, managers' shirts, aprons, accessories and hats received OOBE's design attention.





The same selection process was used for each of those stores too. Bottom Dollar is Food Lion's bargain brand, and OOBE does printed t-shirts for them with logos on the front and back. For Bloom, Harvey's, Reid's and Food Lion, they designed polo shirts in performance fabrics.
During the selection process, there was a clear interest in the uniforms being constructed from a performance fabric, something that would look nicer longer and that doesn't wash out, so OOBE went to synthetic products because the lifespan of that material is so much longer than pure cotton, according to Wachtel.
"Easy-care fabric is a big part of what Food Lion was looking for, in addition to being stain resistant, wrinkle resistant and moisture wicking," he says.
The uniform program incorporates color-coordinated accessories that are as much for visual appeal as for function. The aprons used at the deli counter differ slightly from those at the bakery, for instance, and each department has a different hat suited to that role.Generally, associates are responsible for cleaning their uniforms. Exceptions are company-owned meat coats and aprons, among other special clothing items, that are professionally laundered weekly.
Ordering
OOBE set up an innovative e-commerce website for Food Lion. "That's a big part of our service model," says Wachtel. "We developed an exclusive website just for the Food Lion program that allows Food Lion to communicate directly to their employees about how their uniform should look and fit and what items are available for them to wear on a daily basis. A store manager can go on our website and place an order. If they place an order by 3:00 today, it will ship the same day."
Feedback on the uniforms also comes back via the website. Wachtel says, "Because an individual employee can go on that website, place an order and then provide us with questions, comments or input as well, we feel we have a pretty open-ended system." Comments and suggestion from the end users are read by the customer service department at OOBE, and much of the feedback is reported to Wachtel as the program director.
"There are occasions where we have different requests. We made a hooded sweatshirt because they wanted a hooded sweatshirt with Food Lion on it. It's an optional piece they can purchase. We also make cardigan sweaters and pants. Although employees are not required to wear our pants, there is an option of microfiber pants for them if they'd like them. Other such optional clothes include an outerwear jacket we can also provide upon request."
The OOBE motto, "uniforms that aren't," refers to the idea that someone wouldn't see any similarity between the uniforms worn by their client's employees and those of competitors. For instance, team members at Chick-fil-A, another long-time OOBE customer according to Wachtel, would be uniquely outfitted compared to employees of other major quick-service casual restaurant chains. The motto also hints at the custom look OOBE designs for its clients and the casual feel to the wearer. These uniforms neither look nor feel like the starched, patterned, boxy uniforms of yore.
"What we've found is that, when we build the uniforms for the employees, they like wearing them," says Wachtel. "They don't go into the bathroom and change into the uniform; they wear them from the parking lot into the store. And they wear them back out to the parking lot after their shift at work is over. I think a lot of times with some of the old uniforms, that wasn't the case. I think the uniforms build morale due to the input that we get from the employees in dealing with our product. This gets us to where we design it with them and with their role-specific needs in mind."
For Small and Large
OOBE has 25 people working at its headquarters in Greenville, S.C., but also maintains three offices and additional staff strategically located throughout Asia.
Wachtel worked for Russell Athletic for 12 years, and during those years the Southeast was still one of the textile capitals of North America. That was in the early 1990s. One of OOBE's founders worked at Sealand, the shipping container company, where he learned a lot about the international shipping business. This has proven critical in managing his company in today's global business environment. But what OOBE does best, according to Wachtel, is organizing according to the needs of the individual companies.
OOBE also has the ability to service smaller operations and companies. It carries a small line of what it calls Core Classics, some basic products. Many Greenville regional businesses will host events, such as golf tournaments. OOBE is glad to help out on these occasions, when perhaps 72 shirts for those working at the tournament event or at a restaurant during a catered event must be on hand as soon as possible. Another common situation is a presentation or conference at a local hotel, where different smaller companies are in town and need their logos put on shirts or socks. For one recent project, OOBE worked with a telecommunications company's call center for which they provided 1,000 shirts for the Christmas season.
But with the larger programs, what OOBE is really good at is the custom-designed uniform, according to Wachtel. "That is why we say we're not your everyday uniform company. We're not out there cold calling every Fortune 500 company in the United States trying to get a new customer. We want to be the best service provider and uniform provider that we can be to our current customers. We also have a strong interest in letting our business grow through the recommendations of Food Lion and other firms we've helped."
Above story first appeared in MADE TO MEASURE Magazine, Spring & Summer 2011 issue. All rights reserved. Photos appear by special permission.
UniformMarket, LLC
633 Skokie Rd., Suite 490
Northbrook, IL 60062
T: 224-406-8840
F: 224-406-8850
E: news@uniformmarket.com