Share This
Car Talk: Uniform Choices Drive Car Shopping Experience
The purchase of a new or used automobile is a big decision. Potential car buyers have a lot on their minds as they attempt to sort out all the different makes and styles of vehicles available to them; grapple with issues of sticker price, options and standard equipment; compare trade-in offers for their current vehicle; and consider online vehicle reviews of cars they have their eye on.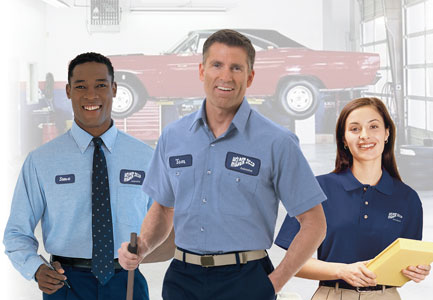 The folks who are helping them either find the right car or keep it running optimally are a big part of the picture too. The physical appearance of the sales and service personnel greeting them at the dealership door or out on the car lot can have an impact on the customer's experience. Such first impressions might be just as important as whether that onboard GPS is optional equipment or standard. Made to Measure spoke with several auto dealerships to learn more about the uniforms they use to help make a good impression.
Each auto dealership does its uniforms differently, but there are some things that many of them do that are the same. "For example, in the shop you don't want to put white clothes on a mechanic," says Mike Penegar, service director at Scott Jaguar in Charlotte, N.C. "You need dress colors to reflect the job the employee is involved in. Also, you need to make sure they're workable. Mechanics need things such as side and front pockets, whereas a sales advisor would need buttons at the collar if he or she needed to wear a tie. It all depends on the job as well as the clientele and the time of year."
Penegar adds, "Another thing to remember is, with jackets and belts, you don't want any with parts that will scratch the cars being worked on. Steel-toed shoes may be important in some situations too."
Dealerships vary in how the uniforms are paid for. Usually the dealership takes care of it. Some pay for all of the items of the uniforms; others just for part of them. It all depends upon how much of a perk the dealership wants to offer as part of doing business.
Many dealerships have their own locker rooms, and employees simply change right at the location. At Scott Jaguar, clean uniforms are delivered each week. Uniform numbers coincide with locker numbers to help easily match the uniform with the employee. Uniforms have been handled pretty much the same way for some 30 years, the amount of time the dealership has been in business. "It's been computerized since I first started, but it's still the same system," Penegar says.
At Scott Jaguar, the sales team typically wears golf shirts with the "Scott Jaguar" name on them, and the shop personnel wear Jaguar green (British racing green) shirts and black pants. They have the employee's names on them as well as patches and insignia.
"With the uniform companies, you can go as far as you want to go," says Penegar. "Some supply doormats with your logos on them; some supply toilet tissues, hand towels or even soap with your company's logo on it."
Many times, an auto dealership will match the uniform colors to the different car manufacturers' logos. For example, at Newberg Ford in Newberg, Ore., fleet manager Dale Sykes and his colleagues on the sales floor wear long-sleeve shirts that have the company name on them as well as the official Ford logo. They sell new Ford cars and trucks and a large number of commercial vehicles as well as used cars.
Their uniforms are mostly cotton blends. The service department and the body shop have a work uniform that includes dark blue Dickies work pants and a light blue button-down shirt, matching the longtime blue Ford logo and name.
Aramark supplies the uniforms. Newberg Ford has a service that picks up the uniforms weekly for laundering. "Our uniform program has gone on for many years, long before my time," says Sykes. "I think it's pretty important to have a uniform look. It makes the customers feel more at ease and gives employees a sense of pride. Each shirt has the name sewn onto the front. Easy identification of associates at our company is critical. In the car business, it's important for the customer to have that level of comfort."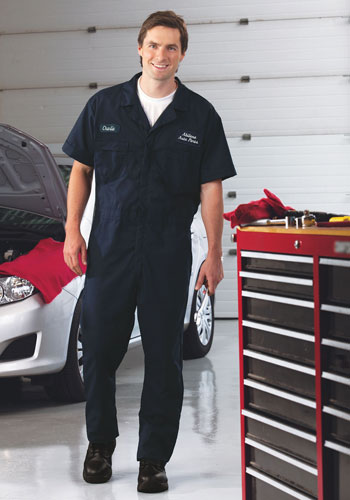 Josh Sweeting, general sales manager at Carolina Hyundai of Fort Mill, S.C., finds that decisions about uniforms at a dealership can change depending on the management. "As far as running the store it could be shirt and tie, it could be suits, it could be polo shirts or any other number of combinations. Management dictates what you will wear," says Sweeting. "Right now our corporate policy is that we wear a shirt and tie. The people working in the back in the service areas wear shirt and pants designed for them that is the same at all the dealerships: a blue or gray shirt and pants. Offices tend to be predominantly female and the attire is generally business casual."
At Fort Mill Ford, also in Fort Mill, all of the support staff and salesmen have polo shirts for the summer and long-sleeve button-down shirts for the winter months. They are provided by the dealership. Ford has two uniforms that are approved, according to Dennis Zander, parts and service director. "We've picked the one that we like."
That Ford dealership is owned by Sonic Automotive Group, which owns 149 automobile dealerships across the United States. "They actually contract the uniform service because they want someone who could service all the uniforms for their dealerships across the country," explains Zander. "UniFirst is here every week to pick up the dirty uniforms and drop off the clean ones. Each piece has the associate's number on the garment and initials on them as well."
The clothing they supply – work pants and work shirts – are comfortable. The pants are dark blue and the shirts are either blue, gray or red striped. Each associate has his or her own locker. UniFirst loads the lockers for the employees. Associates are issued 11 uniforms so that there are six in the locker and five for them to have so they have clean clothes at home for each workday. UniFirst picks up five uniforms per employee at a time and brings back five in a continuous rotation so associates always have a uniform available to them. Associates purchase their own shoes.
Car dealerships, automotive centers and car mechanic shops play a very big role in the uniform rental business, according to Bill Miller, UniFirst sales manager in Charlotte, N.C. The garments UniFirst supplies to Fort Mill Ford and other car dealerships include shirts, pants, jackets and coveralls. Garments are constructed of a 65/35 polyester/cotton blend. They're washed industrially on a normal degreasing cycle. Washers contain water that is approximately 220 degrees, as opposed to the 90- to 110-degree water typically found in home washing machines.
The company celebrated its 75th year in 2011. "The biggest thing we do with car dealerships is carry all the specialty uniforms. We carry shirts just for Hyundai, Ford, GM, Chrysler, Toyota, Honda or any of the others. Everybody has their own direct-embroidered shirt with that company's specific logo on it. We carry all of those," says Miller. "UniFirst provides uniforms for one of the largest car dealerships across the U.S., the Sonic Automotive Group. We also supply to the largest Toyota dealership on the East Coast, Scott Clark Toyota. We're the second-largest uniform provider in the world with over 200 locations in United States, Canada and Europe. We hit the $1 billion revenue mark in 2008 and haven't looked back."
UniFirst has two subsidiaries: UniClean for high-tech and food service companies, and UniTech for the nuclear power industry. The company also serves such clients as Midas Muffler, Costco, Staples, Comcast Cable and Wal-Mart, according to corporate spokesman Ken Tokarz from the corporate offices in Wilmington, Mass.
"There are a lot of small companies doing uniform rentals around the country – particularly with niche markets. And then there are two or three big players; UniFirst is among those," says Tokarz. "The rental concept actually goes back to the 1930s and '40s when our company was founded. Our founder, Aldo Croatti, actually came up with that concept sometime after founding his company in 1936 for a section of Boston, renting the coverall uniforms for factory workers. It expanded from there into all sorts of industries."
Eventually Croatti's son, Ron, took over the company. It is now a publically-traded company on the New York Stock Exchange. It's targeting $2 billion in revenue by 2020. UniFirst primarily serves the people working on the cars, not the people selling them, according to Tokarz.
"Those employees include everybody working on your transmission or your engine that we are providing for," says Tokarz. "The people out front are generally dressed in their own clothes, in their own suits, shirts and ties. We're giving service people the industrial-strength pants and shirts that look snappy and dressy. If a mechanic takes pride in how he looks, he's probably taking pride in how he fixes your car. It's part of the psychology going on."
While UniFirst doesn't necessarily clothe the sales team, it still has a presence on the sales floor. Tokarz says, "If you look out on the display floor where the salespeople are walking, you may see our floor mats because we also supply those. Part of what we do is help project a positive image so it's not only the way people are dressed. In conjunction with that, we also rent out the floor mats to help keep dirt out of the area where people are meeting salespeople and looking at new cars."
Tokarz says that projecting a positive image with customers is part of their service to car dealerships. With this comes a quality connotation that helps car sales staff continue to attract customers and keep longtime customers coming back to their business.
"Picture yourself at a dealership where the mechanic comes out with an untucked, unbuttoned or dirty shirt versus someone appearing in a sharp-looking shirt and pants and a nice pair of work shoes," adds Tokarz. "You'd have more confidence in having that person do the job the right way. It's a point of differentiation and can make a difference on whether you sell a car or don't make the sale. That's what we do, partner with our customers to help them succeed in their business."