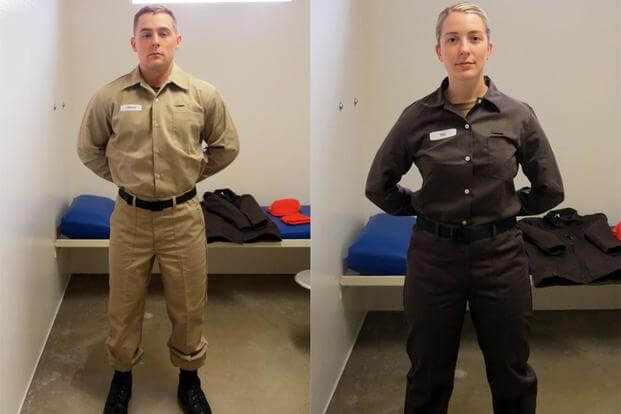 Naval force Personnel Command has another uniform for detainees at all aground restorative offices, and it's uni-administration.

Starting May 1 for all prisoners currently in pre-trial and post-trial confinement at any Military Correctional Facility ran by the Navy, regardless is the prisoner has any affiliation with the service, they will be required to wear their new uniform.
"However, having prisoners wear their service uniform creates security and public safety challenges, such as difficulty in distinguishing staff from prisoners," Jonathan Godwin, senior corrections program specialist with the Corrections and Programs Office of the Navy Personnel Command, said in a statement.
The release states that despite the costs associated with purchasing and maintaining new service uniforms for prisoners being a tremendous fiscal burger to the Navy and taxpayers, the new standardized prison uniforms will likely end up saving the Navy money in the long run.
The expense for an administration explicit military utility uniform with one sets of pants and a top is about $95. Include a fleece jacket, and the expense surpasses $150. The new SPU top and pants will cost around $18.50, the release states. Include a belt, clasp, baseball hat and watch cap, and the cost is about $22. With a coat, the total cost to dress a detainee will be about $45.
Depending on the prisoner's legal status, the new uniform will come in two colors. A prisoner that is in pre-trial confinement will receiver a chocolate brown uniform, and prisoners in post-trial confinement will receive a tan uniform.
Current prisoners at Navy Military Correctional Facilities wear their service utility uniforms that align with the Navy's theory that will help maintain disciple and aid those in rehabilitation.
"In addition to the enhancement of correctional security, improved public safety and significant fiscal savings, the wearing of the new SPU will produce numerous benefits across a wide range of Navy corrections operations," Godwin said. "These include an SPU with a neat and professional look, an easier-to-maintain and care-for uniform, and less wear and tear on equipment, i.e. washing machines and dryers, and less cleaning supplies, i.e. laundry detergent."