Share This
NAUMD Awards: 2012 Image of the Year & Best Dressed Public Safety Winners
The North-American Association of Uniform Manufacturers and Distributors honored its own in grand fashion during its 2012 Las Vegas convention, hosting two events that celebrated the works of those in the image apparel and public safety industries.
Suppliers were recognized for their achievements over the past year in producing some of the most distinguished and recognizable designs worn by companies across North America, taking center stage at the annual Image of the Year Awards and Best Dressed Public Safety Awards dinners.
Three suppliers – Cintas, Superior Uniform Group, and G&K Services – took home multiple awards in the Image of the Year competition. Galls walked away with half of the awards given in the Best Dressed Public Safety Contest.
Both the Image of the Year and Best Dressed Public Safety Awards call attention to the role uniforms and image apparel play in increasing brand visibility. "Clothing is more important to the branding strategy than ever before," notes Richard Lerman, NAUMD president. "Employees are a company's walking advertisement; over time, the uniforms become part of the branding, attracting new customers and reminding existing ones about your products and services."
2012 Image of the Year Recipients:

Company: Walgreens
Category: Retail Establishments
Supplier: G&K Services
Building a brand's image is never easy. For guidance, retail giant Walgreens turned to GKdirect, a business unit of G&K Services, who developed a concept and uniform collection that delivers the company's message to customers and employees alike.
The program was created for the Walgreens Field and Security Services team. These employees are often away from the store yet still facing the public, making it vital that the new apparel display the image and confidence the company is known for. Equally important was functionality; garments had to be durable, comfortable and breathable.
The result is a mix of branded workwear that is as hard working as any Walgreens team member. This stylish collection includes polos, button-front work shirts, trousers, outerwear and accessories colored in navy and khaki.
GKdirect also designed a logo for Walgreens not only to use on their branded apparel program but also to carry forward within other branded elements for their team. Walgreens had a goal to keep real distinction between the field and this specific division of operations, thus a totally separate program collection was developed.
>> www.gkservices.com
Company: Mary Kay
Category: Direct Retail
Supplier: G&K Services
Fashion and good design can be found at any price point, as the 2011 Mary Kay Director Career Apparel program illustrates.
Sensitive to the effects a sluggish economy has had on its consultants, Mary Kay decided to infuse this year's program with pieces from its Bold in Black 2010 collection. Newer items added, like a budget-friendly knit dress and cami, give the consultant multiple options while holding the line on cost.
All of these blend perfectly with Mary Kay's signature piece: the Director's jacket. The 2011 Orchid Collection features three distinctly different jackets each with its own style, aimed at meeting the personality and personal style of each independent consultant. The Bella is a classic length and style with feminine flair; the Blake a three-quarter length topper style; and the cropped Tasha has ruffled collar for a smart, chic look.
Partnerships with Spanx Shapewear and Nordstrom allow the program's designer, GKdirect, to offer consultants one-stop shopping options for coordinating pieces and accessories.
>> www.gkservices.com
Company: Desert Security Services
Category: Service & Industry
Supplier: Phoenix Uniforms
Desert Security is truly a unique security company. They patrol the U.S./Mexico border; protecting assets from urban office buildings to remote solar energy farms that are hundreds of acres large, court houses and airports, agricultural farms and food processing factories, and more.
"Naturally, they need to have a widely varied uniform program, but one that has a common theme and professional image," says Bill DuBois of Phoenix Uniforms, the California-based supplier who created the winning look.
This challenge is met through individually numbered high-quality badges from Blackinton; tailored uniforms instead of off-the-rack pants and shirts; jackets screen-printed with the company logo; and directly embroidered badges for cold weather gear. "With just a phone call, the client can authorize a new officer to come in to our store and be outfitted with proper apparel specific to the assignment," adds DuBois.
The Desert Security Services uniform program isn't new. It started small, with just a typical navy blue shirt and pants for security guards. Over time, the company grew, and so did its apparel needs. Blazers, bicycle uniforms, cold weather gear, hot desert uniforms and regular patrol wear have been added since the program's inception in 1981.
Typical of security companies, dark navy is its core color. Patrol officers wear dark navy blue shirts and pants in 100 percent polyester for ease of care and consistent appearance. Employees in some assignments wear grey blazers, white long-sleeve shirts and grey slacks. In those posts, shirts may be a poly/cotton blend, but blazers and slacks remain polyester.
Bicycle officers wear a hi-visibility yellow and blue bike shirt with company patches, navy blue bike shorts and bicycle shoes. Officers posted in rural desert assignments may wear poly/cotton blend navy blue shirts and poly/cotton twill pants. High-risk assignments also wear concealable ballistic vests rated at level 2 or level 3A.
>> www.uniforms911.com
Company: BC Transit
Category: Transportation
Supplier: Omega Uniform Systems
BC Transit is a provincial crown agency charged with coordinating the delivery of public transportation throughout British Columbia. It connects over 50 million customers across the province every year. Its motto, "If it's green, just go," underscores its commitment to delivering integrated transportation solutions that connect people and communities to a more sustainable future.
Its eco-friendly policies extend beyond the transport of people; they can also be seen in the agency's uniform program, adopted three years ago. Many pieces, including pants and shorts, are manufactured from a blend of cotton and recycled polyester. "Increasingly, customers and their employees are asking for socially and environmentally responsible solutions," says Margaret Ramsdale of uniform supplier Omega Uniform Solutions. "In our view, the successful uniform programs of the future will embrace those responsibilities."
Other items worn by the 550-member staff include woven shirts, softshell and waterproof jackets, and sweater vests, all colored in blue and emblazoned with the BC Transit logo for ease of identification and added professionalism.
When you choose transit, walk or cycle, you can save money, feel healthier and enjoy connecting with your community, says the BC Transit website. Apparently, you can help the planet, and look good while you're doing it, too.
>> www.uniformsystems.com
Company: Harrah's Cherokee Casino
Category: Hotels
Supplier: Cintas
The newly renovated Harrah's is the only casino in North Carolina that aims to simulate the experience of Las Vegas through Vegas-style gaming tables and sleek apparel options for employees.
Uniforms are paprika in color, which match the casino's newly renovated floor design and nature theme, based off the Smoky Mountains in Western North Carolina. Outfitting dealers, security guards and environmental services personnel in like-colored and cleanly designed uniforms creates a unified image across all guest-visible areas, while keeping with the Vegas dynamic.
The apparel also underscores Harrah's strong green initiatives. Dealers and security guards are outfitted in an environmentally friendly Jacquard shirt. These shirts convert plastic bottles into fibers, diverting about five bottles from the waste stream with the creation of each shirt. The shirt can be home laundered as well, reducing dry cleaning costs as well as the use of harsh dry cleaning chemicals.
Although all uniforms are custom-made, the program provides many stock options that can be modified, offering great flexibility to accommodate this growing program.
>> www.cintas.com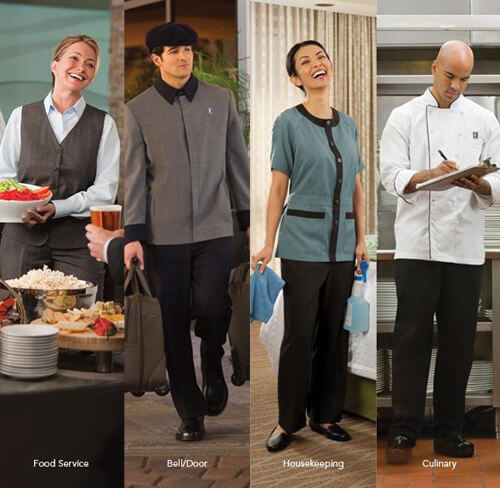 Company: Embassy Suites
Category: Hotels – Multi-Unit
Supplier: Cintas
Embassy Suites' new apparel program consists of three collections: The Cosmopolitan, Parkside and Sunrise collections. The property can choose the collection they like and mix and match job functions within those collections if they desire. The intent was to create a merchandised wardrobe concept, not a uniform program.
Each of these schemes corresponds to the urban, suburban and resort property categories. Although the three collections provide different aesthetics, they bring a tailored and professional look to each job function and property.
Capturing the inspiration of the previous program, the new Cosmopolitan Collection utilizes the original navy pinstripe fabric for Guest Services. Updates include a two-button blazer with narrow peak lapel for males, and a shorter, more modern blazer with three-quarter-length sleeves for women. Suitekeepers love the use of soft yarns and added durability of their new apparel, which features a banded collar tunic in mineral with charcoal velocity.
The hallmark of the Parkside Collection is a grey plaid fabric that can be merchandised with many different colored shirts and blouses to create virtually limitless options to complement any Embassy Suites interior.
The final collection, Sunrise, introduces a new oyster plaid endurance suiting which can be utilized in a variety of locations and interiors from urban to resort. The fabric, with its subtle mélange weave, has great texture and tone, providing a luxuriousness that is as appropriate in an urban location as a resort location.
Two of the three suiting ensembles in this program are home launderable, saving money and time and reducing chemical waste.
>> www.cintas.com
Company: New York Palace
Category: Hotels – Single Unit
Supplier: Cintas
The New York Palace is a luxury hotel in Midtown Manhattan, steps from St. Patrick's Cathedral, Rockefeller Center and Saks Fifth Avenue.
The new program blends sleek sophistication that is expected in such a setting, with modern elements for all items. Excellent tailoring and installation services ensure that each employee looks impeccable.
Charcoal fabric made from a 50/50 blend of merino wool and polyester was used as the base color and textile for the program throughout doorman, bellman, front desk and concierge job positions. Both the doorman and bellman wear traditional single-breasted charcoal jackets with butter stripe vests and top hats to finish the look. Bottoms are also charcoal.
Front desk staff are in Jackie O.-inspired jackets with high-neck closures for warmth and an asymmetrical design to modernize the look. Black grosgrain trim accents the charcoal uniforms. The concierge is in a similar version of the front desk uniform; however, they are in traditional tailcoat length jackets. Jackets and bottoms are both charcoal.
Functionality was a primary concern; in their previous uniforms, the doormen and bellmen were very hot, so new jackets were offered using back vents with stretchable mesh to increase comfort during hot weather. This stretchable aspect also allows bellmen to move easily when picking up and pulling luggage. The front of the jacket still retains a formal look with a lined interior and impeccable construction.
Additionally, outer pockets were custom designed to accommodate luggage tags, and interior pockets were created to hold pens and be easily reachable, providing a convenience that the previous uniforms lacked.
>> www.cintas.com
Company: DaVita
Category: Healthcare
Supplier: Superior Uniform Group
The aptly named DaVita — Italian for "giving life" — has more than 41,000 employees around the nation working to provide superior patient care and exemplify the company's core values. DaVita Inc. is a leading provider of kidney care in the United States, delivering dialysis services to patients with chronic kidney failure and end-stage renal disease.
DaVita strives to improve patients' quality of life by innovating clinical care and by offering integrated treatment plans, personalized care teams and convenient health-management services. The commitment to patient care extends to its uniform program as well. The clinic wanted a professional look for its employees that would put patients at ease. Because a patient may visit multiple centers during the course of their treatment, an image program that consistently represented its brand and mission in its nearly 2,000 locations was desired.
The look designed by Superior Uniform Group features a custom print with the clinic's logo. Soothing tones of blue and buttercup were carried throughout all of the coordinating designs for scrubs, lab coats, warm-up jackets and knit shirts.
>> www.superioruniformgroup.com
Company: Hastings Entertainment
Category: Entertainment
Supplier: Superior Uniform Group
Founded in 1968, Hastings Entertainment is a leading multimedia entertainment retailer that combines the sale of new and used books, videos, video games, CDs, and consumer electronics merchandise with the rental of videos and video games in a superstore format. It currently operates 146 superstores, averaging approximately 24,000 square feet, primarily in medium-sized markets throughout the United States.
The Hastings Entertainment uniform program consists of waffle knit shirts, aprons, hats and outerwear for the floor staff and baristas. An affordable green textured fabric with an upscale look and feel was selected for the knit shirt for this program. Superior Uniform Group also provides monogrammed fleece blankets and jackets that are used as employee incentives. The overall look is based on Hastings' brand concept of, "Discovering your Entertainment" in a contemporary way.
>> www.superioruniformgroup.com
Company: Papa Murphy's
Category: Restaurants
Supplier: Aramark
Had enough of frozen pizza? Delivery not delivering? Then take fresh pizza into your own hands!
Some of the best pizza around doesn't come ready-made, according to this year's Image winner, Papa Murphy's.
One of the first restaurant chains to join the so-called "Take-N-Bake" revolution, Papa Murphy's traces its history back to 1981. The idea is straightforward: Pizza should be made exactly how you want it with a just-out-of-the-oven taste. To accomplish this, customers bring their custom-made uncooked pizza home, baking it themselves.
The concept proved a winner. Papa Murphy's was voted "Best Pizza Chain in America" by Restaurants and Institutions magazine in 2003 and every year since.
And now its uniforms are receiving kudos. As might be expected, Papa Murphy's approach to attire is casual and upbeat. Employees wear bright red stain-resistant polos emblazoned with an oval-shaped company logo and black slacks. A black ball cap is also worn, trimmed in red around the rim. The company's name, also etched in red, appears on the cap and works to reinforce brand awareness.
>> www.aramarkuniform.com
Company: The Molson Canadian Amphitheatre
Category: Sports Arena
Supplier: Unisync Group
Molson Amphitheatre is a concert stadium run by Live Nation Canada Inc.
Live Nation Entertainment is the world's leading live entertainment and eCommerce company, comprised of four market leaders: Ticketmaster.com, Live Nation Concerts, Front Line Management Group and Live Nation Network.
These businesses power Live Nation Entertainment, the leading provider of entertainment marketing solutions, enabling over 800 advertisers to tap into the 200 million consumers Live Nation delivers annually through its live event and digital platforms.
The Molson Canadian Amphitheatre program was redesigned two years ago, after the customer requested a more modern look that better represented the relaxed atmosphere of the work environment. The golf shirt supports the casual professionalism inherent to the brand, and color is used to distinguish various job functions: blue for security; red for ticket takers; and grey for cleaning staff. The shirt is made from a 100 percent bird's eye polyester fabric with wicking mesh, keeping the 600 employees in the program dry, comfortable and looking great.
>> www.unisyncgroup.com

2012 Best Dressed Public Safety Departments:
Department: Mint Hill Police Dept.
Category: Less than 50 Officers
Vendor: Galls
The Mint Hill Police Department is located just outside of Charlotte, N.C., and was established in 2003.
The main duty uniform worn by this 34-member department is colored in black and is manufactured by Fechheimer. "It holds a crease really well and is durable," says Capt. Scott Hall. "The shirt looks like it has buttons but actually zips up the front so an officer can cool down quickly, or if they get hurt it is easy to open and remove their ballistic plate." The department has been sporting its current uniform style since 2009.
To better serve the people of Mint Hill, the department recently implemented a K-9 unit, purchasing two German Shepherd dogs that work patrol and narcotics.
>> www.galls.com
Department: Manchester Township Police
Category: Less than 100 Officers
Vendor: Red the Uniform Tailor
You are what you look like, or so goes the credo that drives the Manchester Township Police Department. Its classic look, unchanged for years, is the "Pride of Ocean County," N.J., as the department's patch indicates.
This 72-member department has a dress, everyday and Class C uniform, which is essentially a BDU look. Shirts are nickel gray and have pocket flap in navy. Trousers are also navy and are striped in slate gray, a color which matches the dress blouse. As for hats, a Pershing is worn on patrol, while members of the honor guard wear a navy sheriff's style hat. The department also has uniforms for its bike patrol and motorcycle units. The SWAT team is part of a regional unit, and its uniforms are furnished by the county.
To encourage officers to look their best, Manchester Township offers a dry cleaning program with unlimited access and conducts inspections daily at roll call. The department reports that, due to its high standards, little if any deficiencies are ever uncovered.
>> www.rtut.com
Department: Evanston Police Dept.
Category: Less Than 200 Officers
Vendor: Uniform Den
In 1830, Evanston became the second U.S. city – after New York – to follow the London Bobbies' innovative outfitting of police officers in dark blue paramilitary uniforms. Since that time, its look has evolved, but the uniform's result remains constant: to be respected, one must look respectful.
The department has wear for many specialized units, including its latest addition, the honor guard. To establish a unique identity, the honor guard melded the navy blue uniform of its peers with enhancements that include a French blue stripe on the pants and on the jacket sleeves, along with French blue piping as a feature of the jacket. Accessories include a Smokey bear hat, black patent belt and holster, white gloves, French blue braid on the right shoulder, and an Evanston Police Department shoulder patch on the left. Additionally, officers wear a six-pointed star that features two navy blue ribbons, one saying "Evanston Police," the other "Honor Guard."
Individually and collectively, the guard is the face of the entire department, a source of pride to it and to the community it serves.
>> www.uniformden.com

Department: Indianapolis EMS
Category: Fire/EMS
Vendor: Uniform House
A division of the City of Indianapolis Department of Public Safety, Indianapolis EMS provides high-quality emergency medical services to the people of Marion County, Ind.
Formed in 2010, Indianapolis EMS is a unified system merging the emergency medical service that was provided by the Indianapolis Fire Department and Wishard Health Services in order to improve quality and efficiency of emergency medical response, pre-hospital care and hospital transport.
Indianapolis EMS partners with the family-run, locally-owned Uniform House to provide the fitting, purchasing, design guidance and inventory maintenance for all uniform items. The uniform provides a professional and distinctive appearance that works to promote a positive image of the city's EMS public safety agency, all while utilizing a durable, cost-effective design using embroidered, visually appealing logos, standard and recognizable rank insignia, and stain-resistant and easy-to-clean fabrics.
Always on the move, the uniforms must not only be functional but comfortable as well. To meet both needs, the department selected a navy polo and cargo pants with plenty of pockets for tools of the trade. An embroidered logo on the shirt increases visibility and boosts image, while a fleece pullover provides warmth and protection during bad weather.
"The uniforms have helped Indianapolis EMS to establish a cohesive, professional brand that will continue to promote recognition of their life-saving services for years to come," notes the department's Jordan Anderson.
>> www.uniformhouse.com

Department: Florida Fish & Wildlife Conservation Commission
Category: More Than 200 Officers
Vendor: Galls
The Florida Fish and Wildlife Conservation Commission is a Florida government agency charged with managing the state's fish and wildlife resources, regulating Florida's fisheries and wildlife, and enforcing related laws. Besides managers, research and support personnel, the FWC operates as a law enforcement agency; FWC officers can perform many police functions in the course of their duties.
FWC officers wear a traditional uniform colored in shades of grey; pants, for instance, are charcoal with slate grey stripes on the legs. A slate gray shirt with charcoal tie completes the basic look.
>> www.galls.com

Department: Dunbar Armor
Category: Specialized Agency
Vendor: Galls
The "Most Trusted Name in Security" is now one of the best-dressed departments in the country.
For more than 85 years, the Dunbar family has been providing solutions for the ever-expanding security needs of businesses. Since its inception, an unwavering commitment to the strongest security practices and professional standards has been the backbone of its operating procedures. In fact, Dunbar's signature red and black armored trucks have become synonymous with uncompromised security.
And so, too, has its uniforms. Dunbar has adopted a traditional, so-called "hard" look for its uniform program. Pants and shirts are black; a patch affixed above the shirt pocket readily identifies a Dunbar guard. A grey tie and black ball cap finishes the look.
>> www.galls.com