Share This
Great Honor: Uniforms with a Purpose Distinguish Great Falls Honor Guard
The motto of the Great Falls Police Department Honor Guard, "Dedication, Vision, Precision," isn't some happenstance slogan selected on a whim. In fact, for the 13 members of the Honor Guard – and for the 84 officers of the Great Falls, Mont., PD – the saying has meaning with deeper significance, one which matches the pride and emotion that comes from wearing the uniform.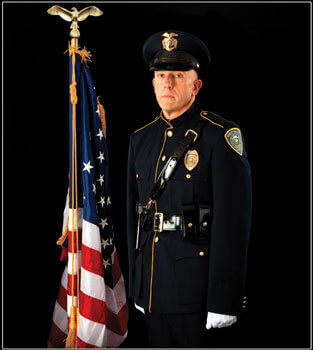 The decision was made to form an honor guard to give proper recognition to these individuals, and in less than a week, the unit was operational and functioning at levels far exceeding its expectations. This was possible due, in part, to the dedication of its members and to Officer Green, a former Marine with honor guard experience who volunteered to instruct raw recruits in the art of precision drill.
The efforts paid off, and those who witnessed the debut were struck by both the emotion and level of expertise behind the appearance. Their motto serves as a reminder for why they formed in the first place; "Dedication, Vision, Precision" uses the first initial from the first name of each of those who died that horrible day in 2007, serving as a lasting tribute to their fallen colleagues.
Since that time, the honor guard has become a regular fixture in Great Falls, making itself available for presentation of colors at community functions, ceremonial courtesy and, of course, rifle salutes at appropriate funeral and memorial services.
Funds in Action for Cash-Strapped Budgets
But the honor guard never had a uniform of its own; officers would wear their dress uniforms with white ascots and gloves to ceremonies until last year, when the Great Falls Police Community Foundation stepped in.
The foundation was established in 2007 to fund urgently needed programs and equipment for the Great Falls Police Department, raising awareness of underfunded or unfunded needs that improve crime prevention and law enforcement efficiency. It is a major source of private support for the GFPD. Foundation President Hayley Lenington-Leray says, "We pick up where the budgets fall short."
Community philanthropy isn't a new concept by any means. Over the years, private sources have helped fund many law enforcement programs, from spruced-up training facilities to specialized gear to improvements in technology.
The need for such involvement is expected to accelerate, as budgets at every level of government are tightened due to the economic downturn. In October 2011, the U.S. Justice Department released a study on the recession's impact on law enforcement. The report, "The Impact of the Economic Downturn on American Police Agencies," issued through the USJD's office of Community Oriented Policing Services, paints a somber picture on the state of public safety services in cities and towns across the country. A more comprehensive year-end study, unavailable at press time, is expected to reveal the first-ever decrease in law enforcement personnel and the services they provide since 1986.
These startling revelations make the work of organizations like the Great Falls Police Community Foundation all the more vital to the communities in which they operate. In its short existence, the foundation has funded a variety of department projects, primarily through its annual fundraiser, the Policemen's Ball. In 2011, those monies went to a first-ever dedicated uniform program for the GFPD's Honor Guard.
Cue from Military Uniforms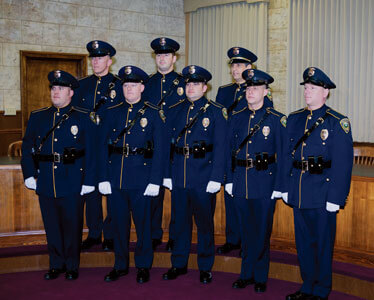 A committee quickly formulated ideas that would determine the look and feel of the new garments. Officer Green was part of the process, and with his military background, it should come as no surprise the type of uniform he favored. "I've always been impressed by the dress blues," says Green. "It's a sharp, professional look."
Others agreed. Three concepts were presented to department members and to the public through a series of community meetings. The choice was unanimous: the uniforms would be patterned after the military.
Manufactured from a poly/wool serge – a "bulletproof fabric," according to Ike Kaufman, vice president of Kaufmans Menswear Center – the honor guard uniforms are colored in dark blue and are designed to coordinate with the department's existing look. Gold piping and buttons accent the jacket, which is affixed with the GFPD patch on each arm. The hat is referred to as halo-styled, which Officer Green describes as similar to an eight-point style sans angles.
A novice when it comes to uniforms, Kaufmans Menswear is best known for its quality, made-to-measure men's apparel and expert tailoring done on premises. When the honor guard uniforms went out to bid, Kaufmans put its name in consideration and won even though it did scant uniform business. "There's no uniform store in town that could handle the custom aspect of this program the way we do," boasts Kaufman.
These aspects, include the tailoring, fine details like sewing on the patches, hemming, and making certain that each uniform item fits exactly the way it was planned. "I've been here for 57 years; it's not that hard to do," quips Kaufman.
The tailoring is so skilled that GFPD uses the store when it needs modifications to its everyday uniforms, even though they are purchased from another distributor. "We have a full-time tailor on staff and another who works part time, and they've been with us for years," notes Kaufman.
Five Bureaus, Multiple Looks
The Great Falls Police Department has five distinct bureaus: Patrol, Investigative Services, Support Services, Communications, and Administrative Services.
Each of the three patrol teams consists of one lieutenant, two sergeants and ten officers. There is a swing-shift team consisting of one sergeant, four officers, and two K-9 units, the unit to which Officer Green belongs.
The department's basic uniform has remained unchanged for quite some time, according to GFPD's Lt. Jack Allen. Both a Class A and cargo-style uniform are used, colored in LAPD blue. Manufactured from a poly/cotton blend, the cargo pants have six pockets: two in the front, two in the back and two along the outside of each leg. Uniform shirts are affixed with patches on the arms, similar to those of the honor guard. Suppliers for these garments include Flying Cross and Horace Small. Outerwear comes from 5.11 Tactical and Horace Small. Both a three-in-one system and all-weather jacket are used. Hats, worn for ceremonial purposes only, are supplied by Midway Cap.
There are also allowances for regular-duty shorts when weather is appropriate. "Except for the bike patrol, I haven't seen anyone wear those in years," says Lt. Allen.
As for Officer Green's K-9 unit, those garments are tactical in appearance, as would be expected. The uniform consists of a black rip-stop shirt paired with black pants. The shirt includes features that provide greater range of motion, and the pants offer plenty of cargo pockets. Each is constructed of poly/cotton rip-stop material.
Officers also are issued an outer carrier vest, which rests on the body under the duty gear. When using these, officers have the option of wearing polos, which saves on the wear and tear of uniform shirts. Popular for its comfort, the outer carrier vest also has an added benefit. "It takes the weight off your back, reducing injuries," says Officer Green.
In addition to these units, the GFPD also has a bike patrol which is community-oriented, allowing further interaction between officers and citizens. A SWAT team equivalent is outfitted in tactical gear, as expected.
A motorcycle unit was disbanded due to budget cuts.
The department gets its everyday uniforms from Stanford Police Supply in neighboring Missoula, Mont., and has recently moved its vest business there as well. The store was founded in 2001 by Jay Stanford, a former Washington State Trooper.
As for honor guard supplier Kaufmans, doing business with the Great Falls Police Department has led to additional opportunities. Kaufmans Menswear supplies the uniforms for the area's sheriff's department and has recently bid on a local fire department contract.
"Things like the uniform deals keep me going," says Kaufman, who is in his mid-70s. "It's a fun business to be in, and it's great to see police officers so concerned about their image."