Share This
Corrections Uniforms Reflect National Trends, Tough Economy
S
an Quentin State Prison is the oldest prison institution in California. Established in July 1852, it was constructed by inmates who spent days building it and nights sleeping on a prison ship called The Waban. The ship was a quick solution to confining criminals in a period of rampant lawlessness and was outfitted to hold 30 inmates.
"Our first inmates were those who got in trouble with the law in Gold Rush times," explains Lt. Rudy Luna with the California Department of Corrections and Rehabilitation, who works as a supervisor at San Quentin.
There have been many changes in the prison over the years, the most obvious being the increase from 68 prisoners to more than 5,000 and a staff of over 1,700. With that growth, there also have been changes in staff uniforms.
For about 15 years, most of San Quentin's staff have been wearing jumpsuits. "I think the original intent in going to the jumpsuit style of uniform was to have a serviceable uniform that was ready for action, so to speak," says Luna. They used to wear a standard Class A or Class B uniform. This consisted of slacks, a shirt and tie. Many of the supervisors and all of the captains still wear this uniform rather than jumpsuits.
"We have basically two distinct colors in the department: green for the staff and blue for the inmates," he explains. San Quentin has inmate jumpsuits in multiple colors, each representing a different stage. The orange ones are for use during reception or when the inmates are being transported. Lime green ones are for when they are on work crews outside the secure perimeter; white jumpsuits are for administrative segregation; and the blue jean with the Cambri shirt is for their mainline, or when they're condemned.
Correctional officers accompanying prisoners out into the exercise yards wear jumpsuits. Eighty-five to 90 percent of the staff at San Quentin wears jumpsuits, according to Luna. He says it is the uniform of choice.
"The warden does not wear a uniform; he wears a suit. As the lieutenant here at the prison, I wear a suit also, including a tie and a jacket," Luna says. "When the warden and I are walking around inside the wall, we're wearing our suits. But if they needed me for overtime work, behind the wall, I would go and change into my uniform."
That uniform consists of regular slacks and shirt. He also can wear the Class A uniform, which at San Quentin is similar to a military uniform.
Officers in the jumpsuits wear a vest underneath for protection. There are accessories such as jackets or long-sleeve sweaters for protection from the elements through various times of year. There is also the option of wearing different hats. Ball caps, bus driver-style hats and, in some institutions where the climate is especially hot, campaign hats are all available for corrections officers. The campaign-style Smokey Bear hats are especially necessary to protect wearers from the sun and promote clearer vision of the inmates.
"All of our state prisons wear the same uniforms. If I visit another facility in the state, I just wear what I already have," says Luna. "If you want to see our uniforms in action, all you have to do is watch MSNBC Lockup,' a prison show featuring lots of prisons, including those in California and all over the country."
Santa Rosa Uniforms provides uniforms for San Quentin State Prison. They also provide uniforms to law enforcement, public safety, fire, hospitality and medical personnel. Half of the space in the 5,000-square-foot store is dedicated to the medical and hospitality side of the business.
"There are two different things going on in the corrections industry," explains Bruce Bagley, who along with his partner, Leslie, bought Santa Rosa Uniforms Company 18 years ago. "There are state prison systems, where they all wear the same thing. Then there are local correctional facilities at county sheriff departments. Everyone except the state employees wear something different."
Santa Rosa Uniforms handles the state uniforms and the local sheriff's and correctional officers' uniforms both in their county and in other counties. There is competition from other uniforms companies in the state.
"There are plenty of uniform companies in the Bay Area, Southern California and also in the Sacramento area," adds Bagley. "Each sheriff is pretty much autonomous and can choose the individual uniform program that suits them. It is a challenge dealing with all the different correctional facilities."
All the state prison correctional officers in California get a uniform allowance. With counties, some get uniform allowances and some go out to a bid.
Counties and cities now have a hiring freeze due to lack of revenue, according to Bagley. This is also an especially difficult problem at the state level. During the last year and a half, many California uniform businesses have taken a turn for the worse due to the poor state economy.
The state system's uniforms come from Flying Cross by Fechheimer and 5.11. California has changed from having a lot of wools and wool blends to the BDU with tactical pockets. According to Bagley, a lot of agencies in recent years have switched to a more tactical look, including jumpsuits, which tend to bring the price of the uniforms down. Uniform longevity is also becoming more of a priority since that also decreases costs.
"5.11 has come out with their tactical line, which is very popular," adds Bagley. "Fechheimer has done the same with their Vertex line, featuring pants that are more of a workable uniform than the traditional uniform pants. Their pants also have padded knees and places to put flashlights, and the pants are still pretty comfortable."
In a prison situation, correctional officers must be equipped to react quickly and, as such, their uniforms must accommodate the working environment. Since these officers work in the prison population, they are limited in the equipment they can carry for their own protection. Another class of correctional officers, SERT, wear different gear than what is typical in a prison as they are called in if something such as a riot occurs. They wear helmets and have pepper spray, guns and other items used in such situations.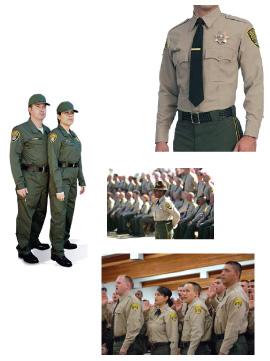 The people seen by the public will wear more traditional uniforms, such as a shirt with a tie, a coat and a hat. The uniforms are based completely on functionality.
Marc Stein, executive director of Ace Uniforms in San Diego supplies to correction facilities in southern California. This represents some 5 percent of all his uniform business. Ace also supplies to the medical field, police departments and other government services.
Ace supplies many of the jumpsuit-style uniforms that different facilities are requesting. Stein sees the decline in what corrections employees are required to wear as tied to many issues, including the budget struggles his state is having.
"Our corrections officers are paid well, but with all the competition among companies, imports from China on clothing/uniforms/equipment/footwear and moves to address the budget bottom lines, we've also ended up with uniforms that simply aren't as distinctive as years ago," explains Stein.
He continues, "I think a lot of times it's just someone saying, What does it matter what the correctional officers wear? We'll just take those uniforms or designs because they are such-and-such a price.' If the supervisors or wardens and below enforced dress code and required union-made, American-made products, that would benefit the officers nationwide in the long run." He cites that higher quality products lend themselves to a more professional appearance. By supporting domestically manufactured apparel, the money spent on uniforms partially goes to support their government job.
"I don't know if any studies have been done on this issue, but I know that in a job interview, no matter how qualified an applicant is, if they show up in flip flops and shorts it's not the same as if they'd worn a suit and tie," Stein says. "In a prison setting, I think prisoners behave differently and also relate differently to correctional officers who are dressed well as opposed to those who clearly are dressed in a way that looks like corners are being cut."
Doug Helmer, northern California sales representative for Flying Cross by Fechheimer supplies the Class A, Class B and Class C uniforms for correctional officers. The Class A uniform is a 55/45 polyester/wool long-sleeve shirt and a green zipper-front Ike jacket that is of the same fabric blend with a matching pair of trousers. For the Class B, correctional officers have an academy graduation shirt, the poly/rayon shirt and a poly/rayon trouser and a green foul weather jacket, which they graduate from the academy in. The Class C is their choice of a tan wash-and-wear shirt with zipper cargo pocket trousers or green jumpsuits.
"If the California Department of Corrections and Rehabilitation officers are in the public eye, they have to be wearing a Class A uniform," explains Helmer. Such duties could include transporting inmates or addressing the media. CDC&R officers get a uniform allowance, which is taxed as part of their salary. The officer is responsible for replacing uniform pieces as needed and maintaining the apparel items.
"Corrections officers go to their local retailer to purchase the uniforms, getting ?them hemmed, the patches put in place and the name strips on the uniforms. They can go to any uniform retailer they want, buy it on the internet or secure it any way they can," Helmer says.
Some of the challenges the corrections uniforms industry faces include a drop in the number of individuals enrolled in the correctional officer academies as well as the fact that, instead of purchasing a new clothing item when damage occurs, users are now repairing their uniforms.
In addition to helping out their new sales rep in southern California, Helmer also covers Nevada, Washington, Oregon, Idaho, Alaska and Hawaii, so he's familiar with other states' correctional uniforms.
"Alaska and Hawaii have completely different uniforms," he says. "They don't use jumpsuits, just a shirt and a trouser for their corrections officers. Whereas California has 30,000 correctional officers, Alaska has 900. Depending on rank or classification, in Alaska they wear a dark blue shirt or light blue shirt and navy blue pants. Hawaii corrections officers wear French blue shirts with a dark blue trouser. Nevada wears a two-piece green battle dress uniform."
Correctional security employees in Oregon are furnished a standard uniform that includes a pair of charcoal gray trousers; a gray long-sleeve uniform shirt with department shoulder patch and institution rocker; four gray short-sleeve uniform shirts with department shoulder patch and institution rocker; and a black clip-on tie. This Class A uniform is worn at ceremonial occasions, promotional interviews, etc.
For officers working in the Special Housing (Disciplinary Segregation) section, the uniform consists of four black cotton BDU trousers with six pockets and three black BDU tops. The General Housing uniform issue is the same black BDU pants, four gray long- or short-sleeve polo shirts with embroidered department seven-point star badge and facility on left chest; an all-purpose black raincoat with liner, department shoulder patch, institution rocker and cloth nametag; a black belt; black baseball cap with an embroidered department seven-point star badge; a Tilley hat (only for employees assigned to yard and work crews or other assignments where the employee is exposed to extreme weather); and a two-piece rain suit (only for employees requiring such equipment).
Staff must purchase their own footwear with the requirements that they are round-toed black leather with low heels with black soles. The base of the heel must be at least one inch square. The upper portion of boots may be black cordura nylon or black leather. They must be shined and in good repair.
Optional attire that employees can purchase includes department standard black vests and standard black sweaters which may be purchased on a price agreement through the uniform vendor. The employee may have the appropriate-colored badge and name embroidered on the vest and sweater.
According to Capt. Gilberto Rodriguez, Oregon Department of Corrections, professional appearance, requirements of job duties, safety, sanitation, weather, security and professional public image all factored in to the selections of the uniforms.
"Typically with any uniform utilized within the correctional setting, comfort, durability, cost and professional appearance are constant factors or challenges in the selection of uniforms," says Rodriguez.
The Oregon Department of Corrections has grown from five correctional institutions in the late 1980s to 14 correctional institutions located throughout the state. During that time, there have been some major uniform changes. The biggest was standardization of the uniform for the whole department. In the past they had different uniforms for each institution; one facility would wear brown polyester pants, white dress shirt, brown tie and a police-style hat while another wore tan khaki pants with a white dress shirt and blue polyester sports coat. At one facility they were allowed to wear their own personal clothing with limitations. "We have come a long way," adds Rodriguez.
As for the future of Oregon's uniforms, Rodriguez doesn't foresee any major changes, but as with other states, state budgets could impact or dictate change. "Some of our biggest challenges in providing uniforms, as with any item of supply and demand, are ensuring we keep sufficient quantities in our inventories within budgetary constraints. Providing our employees with a quality uniform that's properly cared for by our employees also ensures optimal wear of each issued uniform item."
Above story first appeared in MADE TO MEASURE Magazine, Spring & Summer 2011 issue. All rights reserved. Photos appear by special permission.
UniformMarket, LLC
633 Skokie Rd., Suite 490
Northbrook, IL 60062
T: 224-406-8840
F: 224-406-8850
E: news@uniformmarket.com